Chevron (NYSE:CVX) is a company I have had my eye on for quite some time.
I have already elaborated on the mistake I made as a naive young investor, having panicked and sold my shares in Chevron at a price of $70, having been overly convinced by the media doom sayers that the oil industry will never be the same again.
However, from a long-term financial standpoint, Chevron still remains one of the most attractive stocks out there.
The company has grown its dividend for 31 years consecutively, and its yield of 4.17% remains among one of the highest on the S&P 500.
Chevron has taken a dip in 2017, from a price of approximately $118 at the beginning of the year to $103 at the time of writing: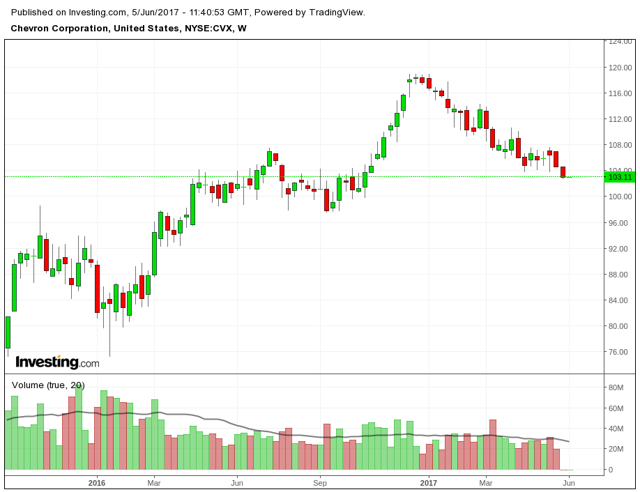 Source: investing.com
Oil prices seem to have been characterized by indecision for the first half of this year. We have seen the price of WTI futures oscillate between $44-$54, with a current price of $47.34: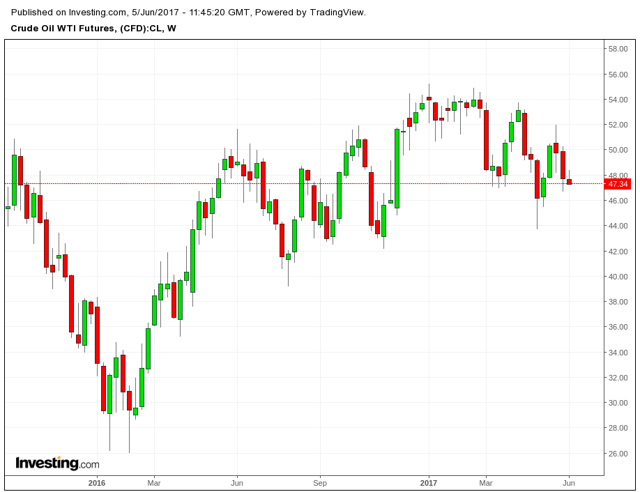 Source: investing.com
Very recently, there has been speculation that oil prices stand to make a jump due to Saudi Arabia and other Middle Eastern countries severing diplomatic ties with Qatar – which could result in supply restrictions.
While I'm not an oil expert – it is fair to say that oil prices are undergoing significant uncertainty in the light of current geopolitical events. As a result, oil stocks including Chevron have fallen out of favor. Even rival Exxon Mobil (NYSE:XOM) has taken a hit, falling from $91 to $79: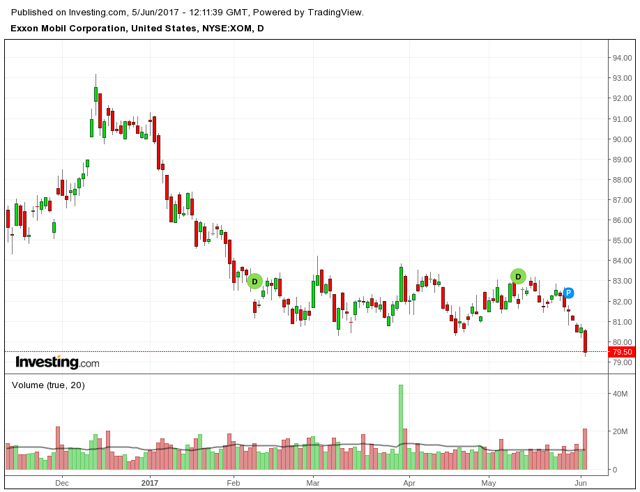 Source: investing.com
In my opinion, this marks an ample time to "be greedy while others are fearful" and get in on oil stocks that have the potential to be strong long-term performers. To my mind, Chevron is one such stock.
As I have mentioned, it was a big mistake on my part to let Chevron go at the price that I did – it is very unlikely we will see a price of $70 in the near future, if at all. However, with Chevron having reached highs of over $130 during the past 5 years, I see significant upside remaining for the stock from a price perspective. Moreover, an investor with a long-term focus will see the majority of their returns in Chevron come from dividends, not capital gains.
Moreover, in spite of Chevron dropping in price, earnings for the company have been strong this year. In the most recent quarter, the company recorded an adjusted earnings per share of $1.23, which significantly exceeded analyst estimates of 86 cents per share. The comp any has been successful in significantly reducing its operating costs, with operating expenses down by 14 percent and that of capital spending down by 30 percent. While the company cannot overdo such spending cuts as production levels need to increase long-term, it will be a very good sign if the company can continue to increase output while concurrently reducing the costs of doing so.
Moreover, the company has been taking clear steps to make itself "leaner", i.e. generate more profit with less resources.
According to the company's June 2017 Investor Presentation, Chevron is expected to see its upstream cash margin increase as lower margin barrels are phased out, and overall free cash flow is expected to rise accordingly: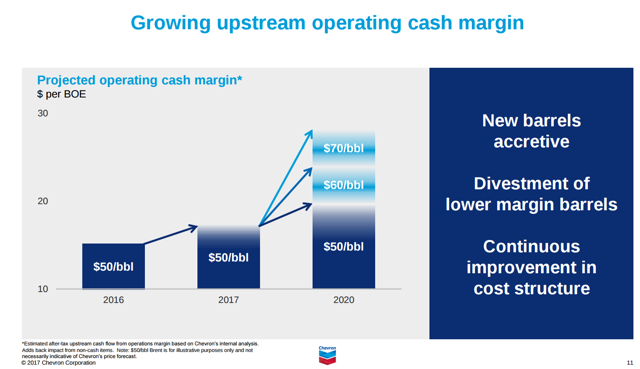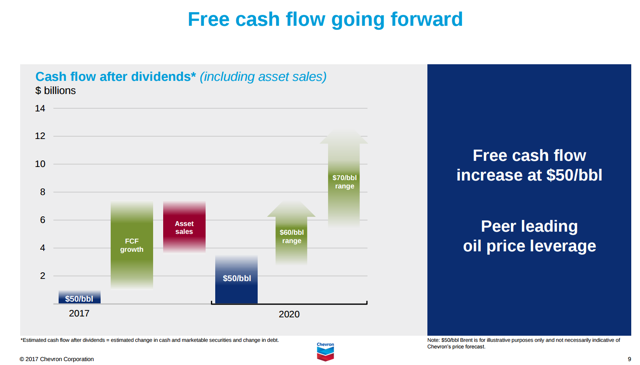 Sources: Chevron – June 2017 Investor Presentation
Moreover, Chevron has ranked no. 1 in terms of upstream margin per barrel performance over the past four years compared to Exxon Mobil, BP (NYSE:BP), RDS (Royal Dutch Shell), and has improved in performance on the downstream segment: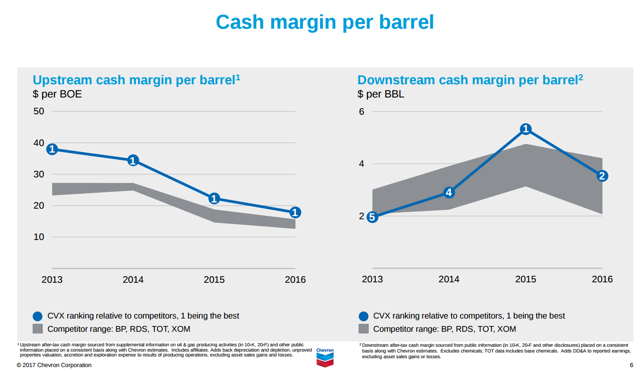 Source: Chevron – June 2017 Investor Presentation
In the above regards, I see Chevron as continuing to have long-term potential which is simply not being recognised from a price perspective. In this regard, my "finger is on the button", and I am getting ready to go long Chevron again.
Disclosure: I/we have no positions in any stocks mentioned, but may initiate a long position in CVX over the next 72 hours.
I wrote this article myself, and it expresses my own opinions. I am not receiving compensation for it (other than from Seeking Alpha). I have no business relationship with any company whose stock is mentioned in this article.
About this article:ExpandAuthor payment: $35 + $0.01/page view. Authors of PRO articles receive a minimum guaranteed payment of $150-500. Become a contributor »Tagged: Investing Ideas, Long Ideas, Basic Materials, Major Integrated Oil & GasProblem with this article? Please tell us. Disagree with this article? Submit your own.Follow Discount Fountain and get email alerts