Chesapeake Energy (NYSE:CHK) displayed strong financial and operational results in their first-quarter earnings report on May 4, 2017. The company beat Wall Street estimates on both the top and bottom line, with a solid beat of $0.04 cents and $430 million in terms of EPS and revenue, respectively. This can be attributed to higher average realized prices for oil, natural gas, and NGL as well as higher operational efficiencies. Production was also above midpoint guidance at 528,000 boe per day. And the company raised oil volume guidance for the second half of the year.
Operational Efficiencies
Management has put an emphasis on cutting cost and increasing margins. Quite frankly, they have no other choice but to do this given the current commodity environment they have to operate in. Management has been successful in their efforts to cut costs on several fronts. In the most recent earnings report, combined production and G&A expenses per boe were down 2% qua rter over quarter. Gathering, processing, and transportation expenses per boe were down 6% quarter over quarter as well. In addition to this, management brought down several midstream commitments at favorable economics during the first quarter for roughly $390 million in cash, the results of which should show up in the upcoming earnings reports. All of these cost-cutting initiatives have led to a 10% improvement in margins per BOE, excluding the increases to commodity prices.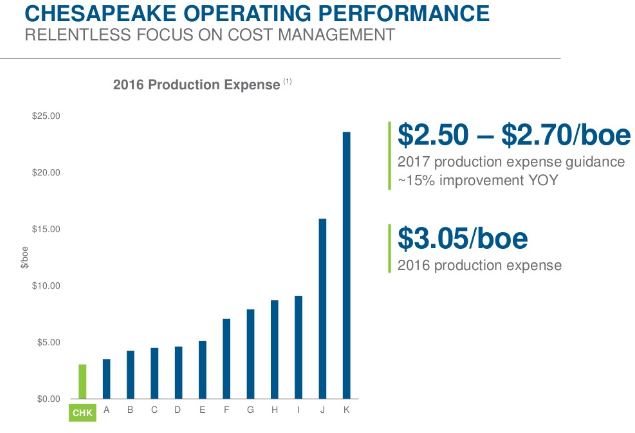 Source: Chesapeake
Increased Oil Production
Oil production is set to increase in the second half of 2017. During the first quarter, production was set at 84,000 barrels of oil per day. However, management has stated that they are on track to increase this to roughly 100,000 barrels of oil per day by the end of the year. We can see on a capital allocation basis that the company plans to drive oil production growth through these three assets: Eagle Ford, PRB, and Mid-Continent.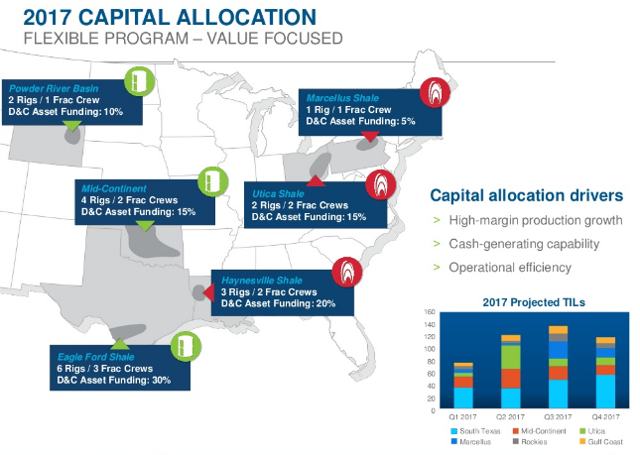 Source: Chesapeake
A strong growth driver will be the Eagle Ford Shale acreage, with over 30% of D&C funding being allocated to this location in particular. A daily production record was set this past quarter from a well in the region that, at its peak rate, produced 2,800 barrels of oil per day. Management believes that the longer laterals involved with this well and more sand per foot could be attributable to this strong production performance. More wells will be placed on production in this region with similar completion methods, which should produce similar results to the peak performing well. Management has labeled this region as an EBITDA engine.
In addition to the strong performance from the Eagle Ford Shale acreage, the Powder River Basin has had exceptional results from the first Turner Well: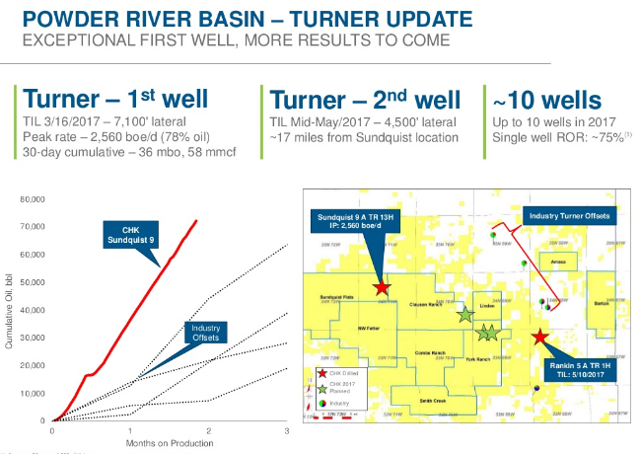 Source: Chesapeake
These strong production performances justify the thesis behind management's decision to become leaner and meaner. The company isn't focusing on sheer production growth for the sake of growth. They are focusing on the most profitable assets in their portfolio and figuring out how to get the most out of these assets. This approach will provide sustainability to margin increases moving forward. Management isn't solely relying on the improvement in commodity prices to bring the company back to prosperity.
Asset Divestitures and Debt Reduction
All of these solid operational and financial results should have the stock in rally mode, but there's one thing looming over the company's head: the large amount of leverage on the balance sheet. The company currently has $9.1 billion in debt on it's books. This is close to double the company's market capitalization. On a sheer operational basis, the company cannot repay this amount of debt. However, Chesapeake has a large number of non-core assets that they can sell to help fund their debt reduction initiative.
The company has stated on the record that they plan to reduce debt by an additional $2-$3 billion within the next two to three years. This will primarily be fueled by asset sales. Which assets would the company be willing to part ways with? I personally couldn't see management parting ways with the Utica and Marcellus acreage in the Northeast due to the strong FCF they provide for the company. On the latest confe rence call, management briefly touched on possible A&D opportunities and said they would explore opportunities in the Mid-Continent area. That is more than likely where the next asset sale will take place. I believe that Chesapeake is waiting for a steeper recovery in commodity prices to extract more value out of their acreage.
The debt maturity outlook is shown below: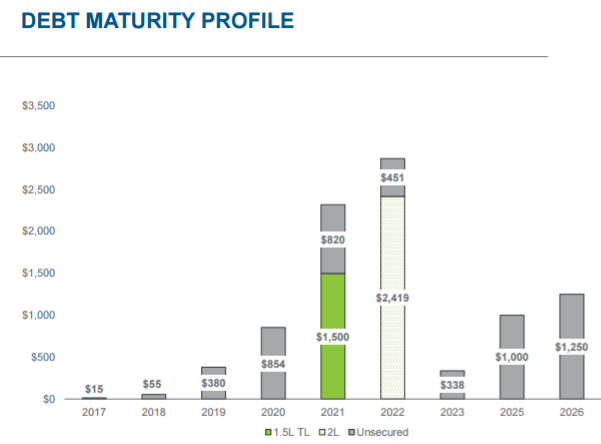 Source: Chesapeake
As you can see, a large portion of the long-term debt maturities are pushed out to 2020+. This doesn't put any near-term pressure on management to make an asset sale. Also, the company's liquidity situation doesn't force them to make an asset sale as well. Chesapeake's total liquidity as of March 31, 2017, was approximately $3.3 billion, which included cash on hand and borrowing capacity of $3.1 billion under the company's senior secured revolving credit facility. This should cover any unexpected expenses as well as increased capital expenditures associated with increased production during the second half of 2017.
Annual Meeting on May 19, 2017
For some reason, I feel as if people are underestimating the impact that the results from this meeting will have on the stock. Management has proposed an amendment to the certificate of incorporation. The board is in favor of increasing the number of authorized shares of common stock to 2,000,000,000. The current amount of shares outstanding is roughly 908,000,000. If this vote passes, current shareholders will be diluted immensely. The EPS will essentially be cut in half. Management has listed several reasons for this proposal; some seem logical and some sound frothy at best (i.e., equity incentives for employees, funding for possible acquisitions, and dividends).
However, the additional shares would raise a fairly significant amount of capital that the company could most certainly use in its current financial situation. Could the initial dilution of current shareholders be negated over time through the positive outcomes of th e capital raised? The additional capital provided by the shares would be able to pay down a decent sized portion of the debt. This would mean that Chesapeake wouldn't have to solely rely on asset sales to pay down their debt moving forward. This in turn could lead to production growth and increased revenue, since the company wouldn't have to part ways with some of their assets.
I am currently a shareholder and I voted no for the amendment.
The OPEC Meeting and How It Will Influence the Price of the Stock
On May 25, OPEC will meet and discuss a possible extension to production cuts. If this were to happen we could see continued drawdowns in inventories, which would result in higher oil prices. With the possibility of extended production cuts, summer driving season just around the corner, and an uptick in the global economy, we could see oil break out of its current trading range of $45-$55. However, increasing rig counts in the U.S. could offset any drawd own from the OPEC production cuts (if they even happen — only time will tell).
Strategic Hedging
Chesapeake has a large majority of their production hedged to cope with volatility in the commodity market.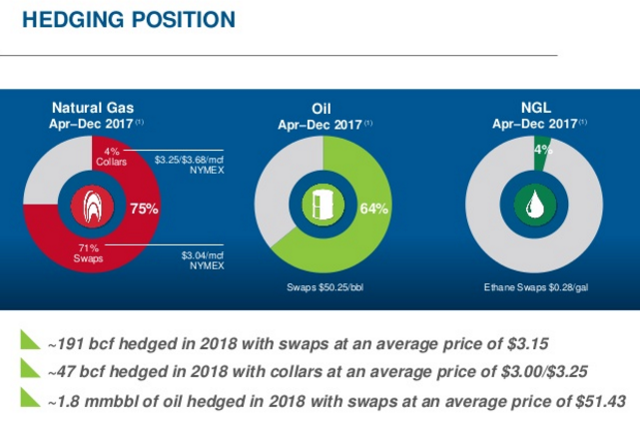 Source: Chesapeake
It will be interesting to see where the stock price will go over these next few months.
The bullish case scenario would be as follows:
Shareholders vote against the amendment to increase the amount of shares outstanding OPEC votes to extend production cuts Inventories continue to fall and prices rise Increased destabilization in the middle east (which would lead to lower oil output) Chesapeake continues to increase operational efficiencies and maintains strict capital allocation, margins increase from lower expenses and higher average selling prices of commodities
The bearish case scenario would be as follows:
Shareholders vote for the amendment to increase the amount of shares outstanding OPEC votes to end production cuts Inventories rise and prices fall Stabilization in the middle east (which would lead to higher oil output) Chesapeake fails to execute on increasing operational efficiency, margins diminish and the compa ny becomes crippled by their debt load
Disclosure: I am/we are long CHK.
I wrote this article myself, and it expresses my own opinions. I am not receiving compensation for it. I have no business relationship with any company whose stock is mentioned in this article.
About this article:ExpandTagged: Investing Ideas, Long Ideas, Basic Materials, Independent Oil & Gas, SA SubmitProblem with this article? Please tell us. Disagree with this article? Submit your own.Follow Jonathan Byrne and get email alerts