Check Point Software (NASDAQ:CHKP) is a technology company that provides cyber security solutions for different kinds of businesses and protects them against cyberattacks and malware software. Last month, the company announced quite a good financial report for Q1, in which it showed that the revenue increased by 7.7% Y/Y to $435.5 million and beat analyst consensus. The major catalyst for such a growth was the increased popularity for the company's top notch solution Sandblast, which gives a deeper level of inspection for all of the upcoming data and makes its users aware of the potential threats. The popularity of Sandblast also helped to increase overall subscription of the company's solutions to 25.7% from 21.8% a year before. As a result, operating income increased by 4.2% to $233.2 million and EPS increased by 1 cent more than expected to $1.20 (+13.2% Y/Y). The management of the company believes that it can achieve $1.85-1.90 billion in yearly revenue with the overal l annual EPS of $5.05 to $5.25.

Source: Check Point Presentation
In addition, from reading the earnings report we could find out that at the moment, Check Point has around $3.8 billion in cash and cash equivalents with no debt. Also, the company improved its operating cash flow by 9.7% Y/Y to $355.4 million and purchased 2.6 million shares of its own stock. At the same time, it has the ability to acquire than $512 million worth of shares as a part of its buyback program.

Source: SEC
The cyber security market continues to grow; a great number of companies from different industries continue to increase their budgets to tackle digital threats, and this is a perfect opportunity for Check Point to improve its positions there. According to analysts, the market for cyber security solutions is going to increase on average by 6-7% annually and will be worth $202 billion by the end of 2021. And I believe that Check Point has a real chance to drive this trend upward and benefit its shareholders along the way. According to IHS, Check Point has around 15% market share in the cyber security solutions market and could increase its position by a few points in the next couple of years.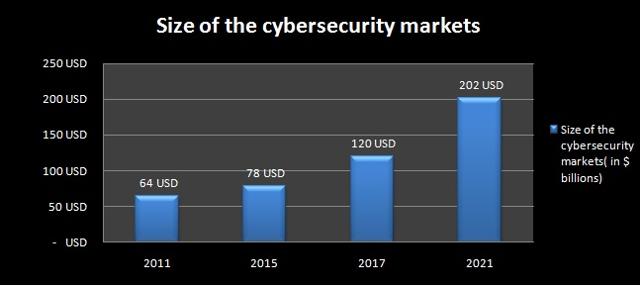 Source: Motley Fool
In addition, I should note that the current US administration is actively discussing different cyber security threats and ways to deal with them, which could benefit the players of the cyber security solutions market, and especially Check Point since it recently passed the certification in the US Defense Department. This means that the company now has bigger chances to struck a number of new deals from the defense sector, which will benefit Check Point shareholders in a positive way.
Besides that, Check Point already has solid financials. It is a leader of gross margin and EBITDA margin percentages in comparison with its competition. If it continues to hold those percentages on a higher levels, then we should expect to see the continuation of the growth of its income and free cash flow.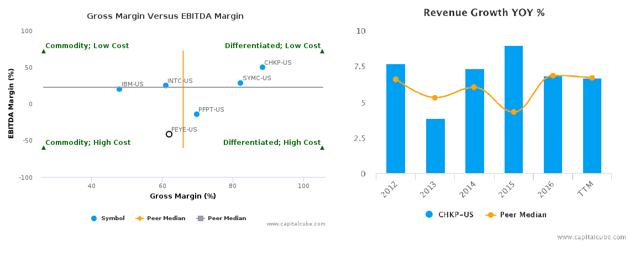 Source: Capital Cube
As for the other financial metrics, Check Point has a number of competitive advantages against other players in the cyber security space. It has attractive EV-to-EBIT, Forward P/E and its Return on Equity and Return on Assets metrics are higher in comparison with the industry's average.

Source: gurufocus
Conclusion
In my opinion, Check Point has a number of great catalysts going forward, and the company's overall perspective looks positive, considering the successful Q1 results. The growth of cyber security market, big margins and no debt are going to increase Check Point's revenue in the upcoming future. I believe that the stock's current technical level of $110 to $112 per share is the ideal spot to open a position in the company and believe that Check Point is a great investment in the cyber security space.
Disclosure: I am/we are long CHKP.
I wrote this article myself, and it expresses my own opinions. I am not receiving compensation for it (other than from Seeking Alpha). I have no business relationship with any company whose stock is mentioned in this article.
About this article:ExpandAuthor payment: $35 + $0.01/page view. Authors of PRO articles receive a minimum guaranteed payment of $150-500. Become a contributor »Tagged: Investing Ideas, Long Ideas, Technology, Security Software & ServicesProblem with this article? Please tell us. Disagree with this article? Submit your own.Follow Viacheslav Makarenko and get email alerts