The S&P 500 delivered returns just shy of 20% in 2017.
The Nasdaq gained more than 28%, with household name tech stocks like Facebook, Netflix, and Amazon leading the way higher. Each of these plays boasts 2017 gains of more than 50%.
But the cryptocurrency space tops them all. Bitcoin launched to ridiculous 12-month gains of more than 1,300% even after retreating more than $5,000 from its December peak.
There was no shortage of opportunities for investors in 2017. Historically low volatility provided excellent profit chances for traders and investors alike. It was downright impossible to lose money in 2017. Unless you bet big on commodities
Thanks to a first half swoon, the Bloomberg Commodity Index went nowhere in 2017. Gold and oil both underperformed the major averages. Stocks and sectors with exposure to these commodities were dead money walking for most of the year.
But the market is quickly shifting to begin 2018 trading.
Energy stocks rallied off their lows during the third and fourth quarters. Metals and mining stocks are also blasting higher. Heck, we even saw a bounce in gold to cap the final trading weeks of the year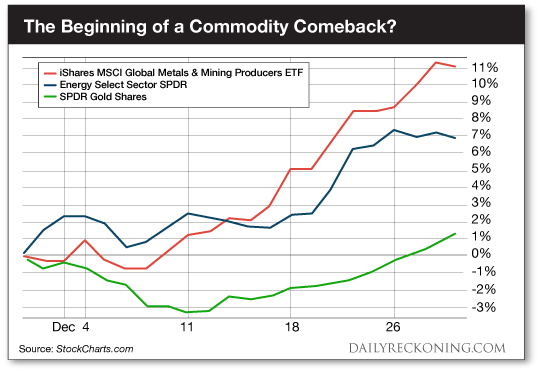 FCX first ripped off its 2017 lows right after reporting second-quarter profits back over the summer. The company didnt even beat earnings expectations, but solid revenue and upbeat guidance was enough to spike the stock. Its certainly come a long way since bottoming out in early 2016. Now its sitting at prices we havent seen since 2015.
When we last updated you on FCX in early December, its share price had gained more than $2 over just six trading sessions. Freeport has now broken out to new two-year highs and appears primed and ready to make a legitimate run above $20. If momentum traders continue to pile into unloved materials and mining stocks like this one, we could be in for a wild ride.
Sincerely,
Greg Guenthner
forThe Daily Reckoning