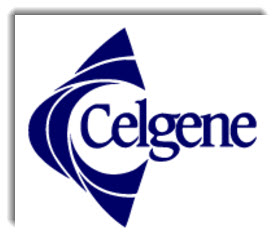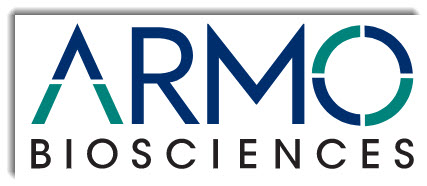 Quick Take
Biopharmaceutical company Celgene (CELG) has participated in the $67 million Series C-1 financing round of ARMO BioSciences.
ARMO is a clinical stage company developing a pipeline of immunotherapy-based treatments that activate the immune system to fight a variety of cancers.
Celgene is an active investor in privately held biopharmaceutical companies as it aggressively pursues deep relationships with companies developing the latest innovations in healthcare.
Investee Company
Redwood City, California-based ARMO was founded in 2013 to develop biologic compounds to stimulate the human immune system in response to cancer conditions.
Management is headed by co-founder and CEO Peter Van Vlasselaer, Ph. D, who was previously CEO of iPierian, Avidia and ARRESTO.
Below is a chart indicating the current status of the companys development pipeline:
(Source: ARMO BioSciences)
ARMO has seen encouraging initial results from Phase 1b studies of its lead candidate AM0010 for the treatment of multiple cancers including pancreatic, non-small cell lung cancer, renal cell cancer, melanoma and colorectal cancer.
As CEO Van Vlasselaer stated:
In this ever-changing field of immuno-oncology, the combination of AM0010 with standard-of-care chemotherapy or with checkpoint inhibitors may offer novel and competitive treatment options to patients with several types of difficult-to-treat advanced solid tumors.
Investment Terms and Rationale
Along with Celgene, other investors in the current round included lead investor Qiming Venture Partners, Decheng Capital, Sequoia Capital, Quan Capital, RTW Investments and GV (NASDAQ:GOOG). Existing investors Kleiner Perkins, OrbiMed, DAG Ventures, NanoDimension, HBM Healthcare and Clough Capital Partners also participated.
Valuation of the round was not disclose d. With the current funding, ARMO has now raised at least $167 million in four financings since 2013.
ARMO said it plans to use the proceeds to initiate Phase 2/3 trials for its lead candidate AM0010 for treatment of non-small cell lung cancer and renal cell cancer and its existing Phase 3 trial for advanced pancreatic cancer.
Celgene has previously invested in ARMOs first Series C round ($50 million) back in February 2016, so it certainly sees potential in ARMOs technology approach.
Celgene has been quite active as an investor in biopharmaceutical startups, with 20 known investments since 2015, as the chart below shows,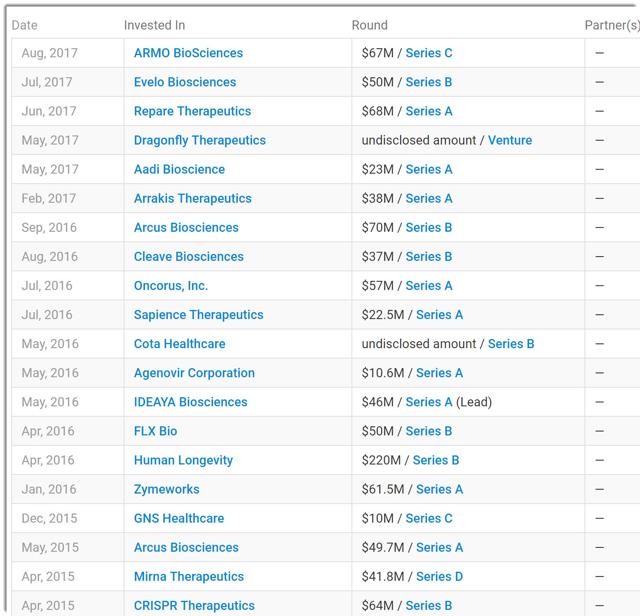 (Source: Crunchbase)
Celgene is one of the more active investors among major pharmaceutical firms.
The main benefits of such an active investment strategy are that Celgene gets a preferred position for potential development partnership opportunities, current information on trial progress and potential in- or out-licensing opportunities, in addition to the profit potential.
Also, the potential for outright acquisition opportunities is not to be discounted, as Celgene has acquired six companies since 2015.
This financing for ARMO also includes a number of Chinese investment firms, including the lead investor and another China-based firm, both of which have secured board of director seats.
Celgene is aggressively positioning itself as an active strategic investor during this period of accelerating technological discoveries.
Author's note: I write about M&A deals, public company investments in technology startups, insider activity, and IPOs. Click the "Follow" button next to my name at the top or bottom of this article if you want to receive future articles automatically.
Disclosure: I/we have no positions in any stocks mentioned, and no plans to initiate any positions within the next 72 hours.
I wrote this article myself, and it expresses my own opinions. I am not receiving compensation for it (other than from Seeking Alpha). I have no business relationship with any company whose stock is mentioned in this article.
About this article:ExpandAuthor payment: $35 + $0.01/page view. Authors of PRO articles receive a minimum guaranteed payment of $150-500.Tagged: Investing Ideas, Long Ideas, Healthcare, BiotechnologyWant to share your opinion on this article? Add a comment.Disagree with this article? Submit your own.To report a factual error in this article, click here