The Past
Now that we are well into the baseball season, I cant help myself but bring out some baseball references for my articles. And yes, I am a Yankees fan but please dont hold that against me. In 1915, the Major League Baseball (MLB) team, New York Yankees were sold to Colonel Jacob Ruppert and Captain Tillinghast L'Hommedieu Huston for $1.25 million. This was the first time they were sold once being renamed the Yankees from their previous highlander era. With Rupperts deep pockets and their willingness to invest in players, this brought about the golden years of the Yankees as it would lead into the era of Babe Ruth, Lou Gehrig and of course the infamous murderers row. According to Forbes, today the Yankees are worth about 3.7B. Not too shabby of a return on investment. Now at the time, no one would have fathomed how big the MLB would have grown to today. This brings an interesting parallel to emerging sports leagues today, particularly E-Sports.
The Madison Square Garden Company (MSG) is a public company with a portfolio of sports teams and entertainment related real estate assets. With their deep pockets and their track record of investing into superstars in the sports teams they own, they too follow a similar approach as to how the Yankees were built to the dynasty they are today. Some examples of investing into star players can be seen with the signing of Carmelo Anthony to the New York Knicks in 2011 and the signing of Rick Nash to the New York Rangers in 2012. Both teams have been fairly successful at the time of those signings. The Knicks made the playoffs 3 seasons in a row after the Anthony signing and the Rangers have made 6 playoffs after the Nash signing. The Madison Square Garden Company can once again use their deep pockets to build their newest sports team acquisition.
The Present
On July 31st, The Madison Square Garden Company acquired a controlling stake in Counter-Logic Gaming. Counter Logic Gaming is a North America organization who has a roster of E-sports stars that play in video game titles such as League of Legends (OTCPK:TCEHY), Counter Strike, Overwatch (ATVI), H1Z1 and Super Smash Bros Melee (OTCPK:NTDOY). In terms of popularity, Counter Logic Gaming is considered one of the top 2 E-sports organizations in North America, the other being Team Solo Mid.
E-Sports have been on the rise in the 2010s. According to the graph below provided by the British E-sports Association, in 2017 we are expecting a total audience size of 191 million fans.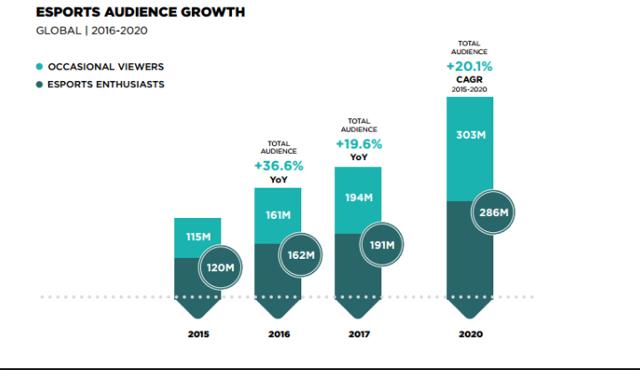 Compared to other major sporting events, it is around the popularity level of soccer due to its global presence. The majority of viewership in E-sports comes from China and South Korea.

How it came to be and which games?
The rise of E-sports has been brought on advancement in technology and globalization. E-Sports are able to grow to be widely watched by audience worldwide because of how cheap individuals can get computers these days. Also if you look at the graphics of the most popular E-Sports titles, they are not running the most top end graphics, meaning it doesnt require very powerful hardware to power the game. There is also a very little barrier to entry compared to traditional sports as it does not take any additional equipment for a parent to enroll them in traditional sports. Families need to buy a computer in our digital age today and because most E-Sports titles are free to play; the barrier to entry is low.
Now the term E-Sports is a very broad brush term. It includes all video games that are played competitively, the following graph below shows which games/ leagues are the most popular based on viewership. The yellow highlighted titles are the games that Counter Logic Gaming participates in.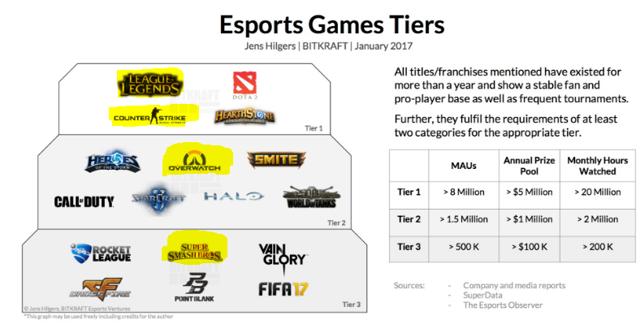 There is a risk in the fact that certain games have a certain shelf life to them. There will always be new games being released with new followings and new players to hire. The most popular E-sport in 2017 is League of Legends and Counter-Strike. However, that can change very easily. After all, Quake which was a competitive video game popular in the early 2000s is no longer being played today. If MSG is to capitalize on their investment into Counter Logic Gaming, they need to continue to be on the frontier of the most popular games with the best players.
The US Market and other investments into E-Sports
Although global viewership is high, when looking at the US market it is still relatively in their infancy and there remains a lot of growth ahead. Compared to traditional sports, E-Sports still have not reached their peak popularity as seen in other leagues such as the NFL or the NBA.
MSG is not the only public company to have seen the potential growth in this area. Time Warner (TWX) has expanded into this on a network side by creating ELeague, a new sports league for their content. Amazon (AMZN) has purchased Twitch, one of the most popular sources for live streams of E-Sports competition.
The Future
There is great potential with MSG to expand the value of Counter Logic Gaming. The most immediate opportunity involves Riot Games, the creator of League of Legends starting to create permanent partnerships with the different team owners. Whereas before there was relegation system, the permanent partnerships have allowed for team owners a safety net if their organization does not do well in a particular season.
In the past, teams were grass roots. It would be a group of friends banding together to form a team to participate in this league. The top teams have to place near the top of the league to continue onto to play next season, whereas the lower teams were relegated. Relegated teams would play in a different league and would have to win that relegation league to be able to join the main league again. With the introduction of this permanent partnership, it takes away the relegation system and teams that buy in with a $10 million investment would be perm anently part of the league.
Along with their permanent spot in the league, the partners also partake in the revenue share of the league. This ranges from broadcasting rights to merchandise. This could be a major deal considering the viewers of E-Sports are in the key demographic of the coveted millennial. Non-conventional media is also in the bidding for sports related content such as Twitter and Facebook; it could be a major windfall for Counter Logic Gaming. The NHL is probably the most comparable with the amount of viewership as they average around 6 million viewers per game. This serves as a good estimate as to what Riot Games could potentially garner from any new deals they strike with major networks.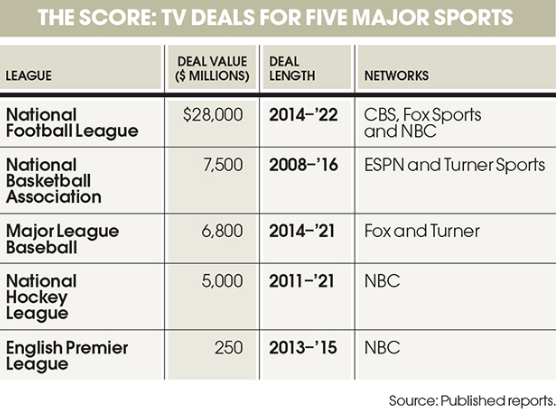 Conclusion
The reason why I compared them to the Yankees is because there is no salary cap right now in the league. With the financial backing of MSG, Counter Logic Gaming can begin to entice the top players from around the league to form a dynasty. Back in 1915, the Yankees did not have any of the iconic players they are known for today.
At the time in 1915 when the Yankees were sold, it was hard to see how popular baseball would become. This is same with E-sports today. There are definitely a growing number of E-Sports viewers and MSG has taken the right steps in investing in one of the most popular E-Sports organizations in North America. For $10 million dollars, it is a calculated risk for the company to invest in something that could be the next New York Yankees.
Disclosure: I am/we are long MSG.
I wrote this article myself, and it expresses my own opinions. I am not receiving compensation for it (other than from Seeking Alpha). I have no business relationship with any company whose stock is mentioned in this article.
Editor's Note: This article discusses one or more securities that do not trade on a major U.S. exchange. Please be aware of the risks associated with these stocks.
About this article:ExpandAuthor payment: $35 + $0.01/page view. Authors of PRO articles receive a minimum guaranteed payment of $150-500.Tagged: Investing Ideas, Long Ideas, Services, Entertainment – DiversifiedWant to share your opinion on this article? Add a comment.Disagree with this article? Submit your own.To report a factual error in this article, click here