Buffalo Wild Wings (NASDAQ:BWLD) is facing an uphill activist investor battle. BWLD has been an underperformer of late, after hitting $200 a share in 2015. Now, Marcato Capital, with its 6% stake, is not only pushing for a board overhaul, but it also wants CEO Sally Smith out of the job. Smith has been in the CEO spot since 1996. This is on top of Marcato's suggested strategy of selling more stores to franchisees.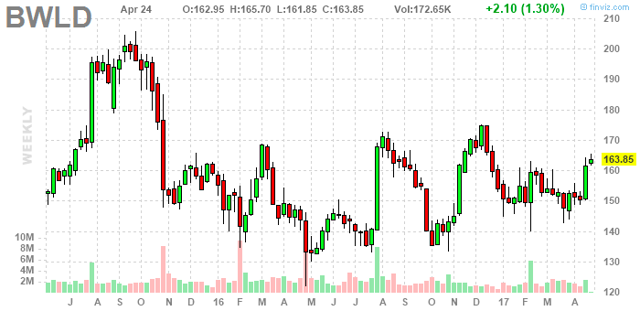 BWLD management, meanwhile, is standing by Smith, pointing to the company's long-term track record of beating the market with CEO Smith. Since its IPO in 2003, the company has generated a 1700% return – handily beating the S&P 500.
But things have changed since the days when it could spur share growth with new store openings. BWLD is now relying on cost savings and blaming the recent weakness on a 'difficult' conditions for the sector. Shareholders are in store for a board battle. Naturally, BWLD says that Mercato's plan for more franchising won't create value but risk instead.
We've seen same store sales continue to fall and margins decline at BWLD and none of the executives actually own any shares of BWLD. Last month, BWLD agreed to support one of Marcato's nominees, but the hedge fund still wants its founder, Mick McGuire, and all three of its nominees put on the board. We're facing a board battle.
The overhang, but opportunity.
Ever yone has an idea of how to fix BWLD. The company thinks cost cuts and buybacks will turn the company around. Marcato wants more franchising. The battle will come to a head with the annual shareholder meeting is June 2.
However, there is work to be done in the meantime. Taking a move out of the newly bought out Panera (NASDAQ:PNRA), BWLD is looking to take on the poor in-store experience problem by offering delivery, hoping to steal market share from the conventional sit-down stores. Convenience is becoming key, just as we've seen in the retail space. BWLD is rolling out delivery slowly, now offered in just a few stores — 100 of its 1,200. But there are good signs; signs that it could look to expand the option. So far, the average check on delivery orders has been 30% higher compared to in-store. This should be an interesting, possibly overlooked, opportunity. As well, BWLD is exploring the idea of opening smaller locations in urban areas dedicated to just delivery and takeout.
For now, BWLD is too expensive, especially given the overhang. BWLD shares are relatively close to the 52-week high and trading at 24 times forward earnings. A premium valuation for all its peers. Ideally Marcato will prevail so that we can some cash flow from selling stores to franchisees. As well as bring in consultants to assess the situation. But I'd also wait for a more sound strategy that focuses on how to turnaround same-store sales and traffic numbers before buying into the chicken-wing focused restaurant.
Disclosure: I/we have no positions in any stocks mentioned, and no plans to initiate any positions within the next 72 hours.
I wrote this article myself, and it expresses my own opinions. I am not receiving compensation for it (other than from Seeking Alpha). I have no business relationship with any company whose stock is mentioned in this article.
About this article:ExpandAuthor payment: $35 + $0.01/page view. Authors of PRO articles receive a minimum guaranteed payment of $150-500. Become a contributor »Tagged: Investing Ideas, Long Ideas, Services, RestaurantsProblem with this article? Please tell us. Disagree with this article? Submit your own.Follow Activist Stocks and get email alerts