Bojangles (BOJA) is a fast casual restaurant operator and franchisor with 325 company-operated and 439 franchised restaurants as of December 31, 2017. Since its founding in Charlotte, North Carolina in 1977, the company has developed a cult-like following in the Southeast thanks to its differentiated Southern-themed recipes.
The company went public in May 2015 to help finance expansion into new states and markets, and since the IPO BOJA has underperformed the restaurant sector by almost 30% on an annualized total return basis (Figure 1). Last year was particularly bad, and saw BOJAs market cap fall by more than a third while restaurants gained almost 25%. BOJA has made up some ground in recent months, gaining 25% YTD vs. 2% for the sector, but the stock still trades at a large discount to sector averages.
Figure 1: BOJA vs. Restaurants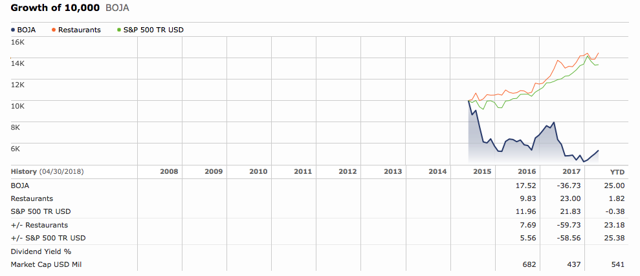 Source: Morningstar
It would be easy to conclude that there are serious company-specific issues at Bojangles. But if you compare BOJA to its more similar fast casual peers, things look a little different. Fast casual restaurants, once the darlings of the restaurant space, have been among the sectors worst performers in recent years. In 2016 fast casual restaurant stocks declined 14% compared with a 0.9% gain for the S&P 500 Restaurants Index (Figure 2), and the pain continued throughout 2017 for most fast casual players.
Figure 2: Fast Casual Restaurant Stocks vs. Overall Restaurant Sector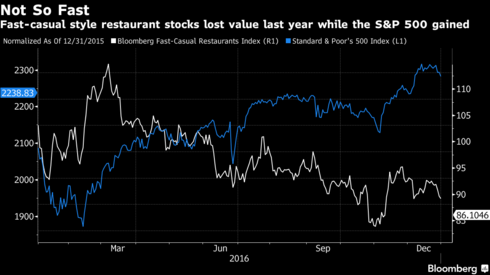 Source: Bloomberg
There are a number of reasons for the weakness, including a decrease in grocery store prices, increasing consumer preference for the convenience of delivered food, and a deceleration in employment growth in younger demographics. These trends have hurt fast casual restaurants more than most because price-sensitive millennials make up a relatively large percentage of their customers.
The point is that these are industry-wide issues, and they arent exactly long-term backbreaking problems either. Yes BOJAs same-store-sales trends arent good (Figure 3), but youll notice that these trends closely mimic whats going on at fast casual peers Fiesta Restaurant Group (FRGI), Zoes Kitchen (ZOES), El Pollo Loco (LOCO), Noodles & Co (NDLS), and Potbelly (PBPB)
Figure 3: Peer Group Same Store Sales Trends


Source: Madison Investment Research
Thus, investors should not assume that BOJAs growth story is dead. The restaurant sector headwinds, while significant, wont last forever and there are already signs that things are picking up again in fast casual. Same store sales growth declined 0.6% in Q1, but this was the first time 4 years that BOJAs SSSG improved y/y (Figure 3) and comps actually turned positive in the March period. The same thing is true for the peer group, on average (Figure 3). For FY18 management expects negative low single digit to flat comps, and it seems like the SSSG declines are bottoming out.
Valuation
BOJA trades at a premium to fast casual peers (Figure 4), but at less than 12x cash flow the stock isnt expensive. Furthermore BOJA deserves its premium thanks to the companys loyal following and superior pricing power, which has allowed it to make up for a lot of the traffic declines and report some of the best comps in fast casual over the years. In addition, BOJA has very decent profit margins for a restaurant company and blows its fast casual peers out of the water in this regard: BOJAs FCF conversion is in the mid-to-high single digits while the average peer company generates negative free cash flow.
Figure 4: Peer Group Valuation Ratios and FCF Conversion


Source: Madison Investment Research
Note: FCF/Sales is a 5-year median
As we stated before, we dont see any unusual problems or risks with BOJA. One potential question is how well the companys distinct southern flavor concepts catch on in new markets (and Bojangles did make the mistake many years ago of trying to expand too far too fast). But management today is taking a much more measured and cautious approach to expansion that involves first saturating core markets and then gradually expanding into adjacent states. Management said in the latest annual report that it expects to slow the pace of expansion by reducing development of company-owned restaurants while shifting the focus to franchises. This is something that should improve profitability and reduce operating risk in the long run.
From a financial health standpoint, investors dont have too much to worry about. The company does have significant operating leases that arent reported on the balance sheet (Figure 5), which means the leverage ratios look better than they are. But unlike peers BOJA generates significant cash flow from operations. And, despite all the headwinds, BOJA has managed to reduce leverage significantly over the last three years.
Figure 5: Contractual Obligations


Source: 10-K
Conclusion
BOJA has underperformed the overall restaurant sector by a wide margin since it became a publicly-traded company but it doesnt reflect anything specific to Bojangles. Fast casual stocks have been among the sectors worst performers and whats going on at BOJA isnt any different than what most peers are going through. The growth story is still very much alive. BOJA trades at a premium to the peer group but the stock isnt expensive and the premium is justified. BOJA could be an interesting choice for patient investors with a long-term focus.
Disclosure: I/we have no positions in any stocks mentioned, and no plans to initiate any positions within the next 72 hours.
I wrote this article myself, and it expresses my own opinions. I am not receiving compensation for it (other than from Seeking Alpha). I have no business relationship with any company whose stock is mentioned in this article.