On Tuesday, shares of BlackBerry (NASDAQ:BBRY) rallied to a new high after a pie in the sky analyst note. The analyst believes shares could soar in the coming years, but this analyst has had a very poor track record on this stock in the past. I also question part of the analyst's note, and with the recent rally in BlackBerry shares reaching stretched technical levels, a pullback may be in store.
First, let's take a look at this analyst's track record on BlackBerry, seen in the TipRanks chart below. Gus Papageorgiou has a terrible record with this stock, with multiple times going from a Hold to Buy rating basically at a short-term top. Several times in the chart below, you can see a buy rating right before the stock drops.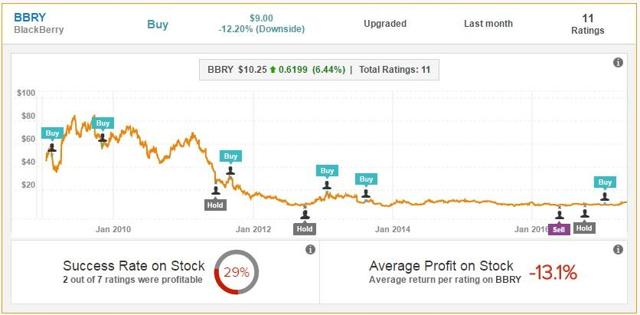 (Source: Analyst's TipRanks page, found here)
Now, the analyst says that BlackBerry shares could be a four-bagger in the coming years, primarily based on strong software revenues and the success of the RADAR tracking system. However, there was no real discussion of how the pie in the sky $45 bull case is achieved on a valuation basis. Here's a key piece of the bullish note:
Papageorgiou, in a research note to investors last night, said it is "not hard to see" BlackBerry earning $2B of software revenue and $1.82 per share of earnings by its fiscal year 2020. The analyst assumes the company starts FY20 with 500,000 RADAR units in service, moving to 1.5M and averaging 1M units in service for the year at $20 per month and selling 1M hardware units at 50% gross margin
In the latest quarter, BlackBerry had just over 590 million diluted shares outstanding, which assumes conversion of the convertible bonds. Given the analyst's bull case, that seems like a likely outcome with the stock over $10, so let's use that share count for this argument. At $1.82 in EPS, that's about $1.075 billion in net profit for BlackBerry.
Now, if BlackBerry gets $2 billion in revenue for that year, which is a stretch at the moment, given analyst estimates under $1 billion for this year and next, it will likely take significant expenses to get this revenue growth. If we assume 70% gross margins that management says may be a long-term target, that's $1.4 billion in gross profit. That means BlackBerry can only spend $325 million on the operating line to get to that level of profitability.
In the latest quarter, BlackBerry spent $246 million on the operating line, which is $984 million on an annual basis. So, the company is going to more than double its revenue base while also cutting overall costs by almost 70%? That really doesn't make sense. Yes, there is the possibility of some other revenues for the company, but they'd have to be several hundred million at a huge margin to bridge this difference, unless you are betting that BlackBerry will just sit on cash and earn huge amounts of interest income i f rates rise. This also assumes no taxes if BlackBerry actually returns to profitability.
The chart below shows a stock that has run significantly over the past six months. The arbitration decision regarding Qualcomm (NASDAQ:QCOM) was definitely a positive, but the stock has run another $1.50 since that news, and the situation hasn't changed. BlackBerry is still seeing huge revenue declines, and management has not made any meaningful acquisitions to bolster growth. Many key technical indicators, such as the Relative Strength Index, show that the stock is overbought in the short term. With the 50-day moving average at $8.22 currently, but rising, a pullback to that line could happen in the $9.00 to $9.50 range quite easily.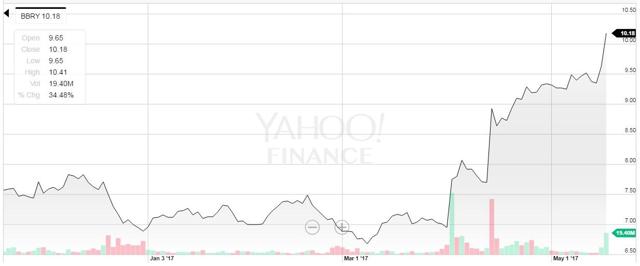 (Source: Yahoo Finance)
While BlackBerry shares soared to a new 52-week high on Tuesday, I wasn't quite buying. In fact, I traded some put options and made a nice gain, and I'll be looking to potentially re-enter a similar position in the coming days. Investors bought on an analyst note that detailed the stock soaring in the coming years, but the analyst has a very poor track record on the stock, and the revenue to bottom line details didn't make any sense. With the stock overbought in the short term, it appears BlackBerry may have peaked since the company has done nothing in recent months to change the status quo.
Disclosure: I/we have no positions in any stocks mentioned, but may initiate a short position in BBRY over the next 72 hours.
I wrote this article myself, and it expresses my own opinions. I am not receiving compensation for it (other than from Seeking Alpha). I have no business relationship with any company whose stock is mentioned in this article.
Additional disclosure: Investors are always reminded that before making any investment, you should do your own proper due diligence on any name directly or indirectly mentioned in this article. Investors should also consider seeking advice from a broker or financial adviser before making any investment decisions. Any material in this article should be considered general information, and not relied on as a formal investment recommendation.
About this article:ExpandAuthor payment: $35 + $0.01/page view. Authors of PRO articles receive a minimum guaranteed payment of $150-500. Become a contributor »Tagged: Investing Ideas, Short Ideas, Technology, Diversified Communication Services, CanadaProblem with this article? Please tell us. Disagree with this article? Submit your own.Follow Bill Maurer and get email alerts