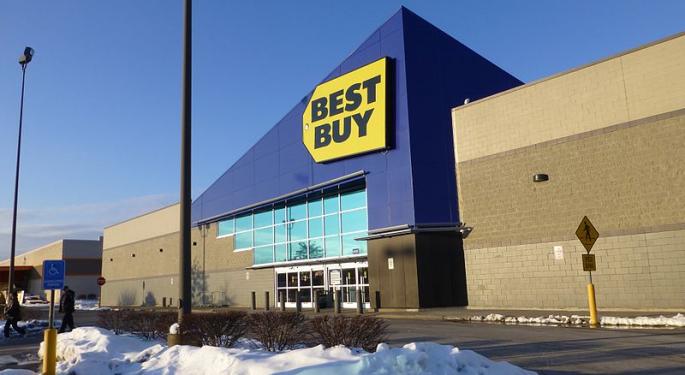 For the most part, earnings season has wrapped up, but there's still a few companies left to report. This week, Best Buy Co Inc (NYSE: BBY) reports fiscal second-quarter earnings before market open on Tuesday, August 29. While the S&P Retail Select Sector Index (SPSIRE) has declined 11.46% so far in 2017, BBY shares have risen 44.69% year-to-date.
The stock surged after last quarter's earnings results came in above analyst expectations. BBY beat on both the top and bottom line, and reported 1.6% growth in enterprise comparable sales, a retail industry measure used to compare sales at stores open longer than a year. The company also reported 22.5% growth in domestic online sales, a slight slowdown from the 23.9% growth in the prior-year quarter.
After posting better-than-expected results in the first quarter, management raised their guidance for the full year, saying they expect revenue growth of approximately 2.5% and non-GAAP operating income growth ranging from 3.5% to 8.5%. Management highlighted an additional selling week in fiscal 2018 as one driver of the growth. On a 52-week basis, management has said it expects revenue growth of 1% and non-GAAP operating income growth in the range of 1.5% to 5.5% for fiscal 2018.
Over the past several years, part of CEO Hubert Joly's turnaround strategy for the company has been to improve profitability by optimizing merchandise margins and focusing on controlling expenses. While the company has benefitted from that focus in recent quarters, CFRA analysts caution that they expect "mixed results in light of an intensely competitive environment, and necessary price investments and ongoing deflation in certain categories will limit the beneficial impact of effective cost management."
For its second quarter, BBY is expected to report earnings of $0.63 per share, up from $0.57 in the year-ago quarter, on revenue of $8.66 billion, according to Wall Street consensus analyst estimates. The company has beat earnings estimates for the past six quarters and has beat revenue estimates in four of them.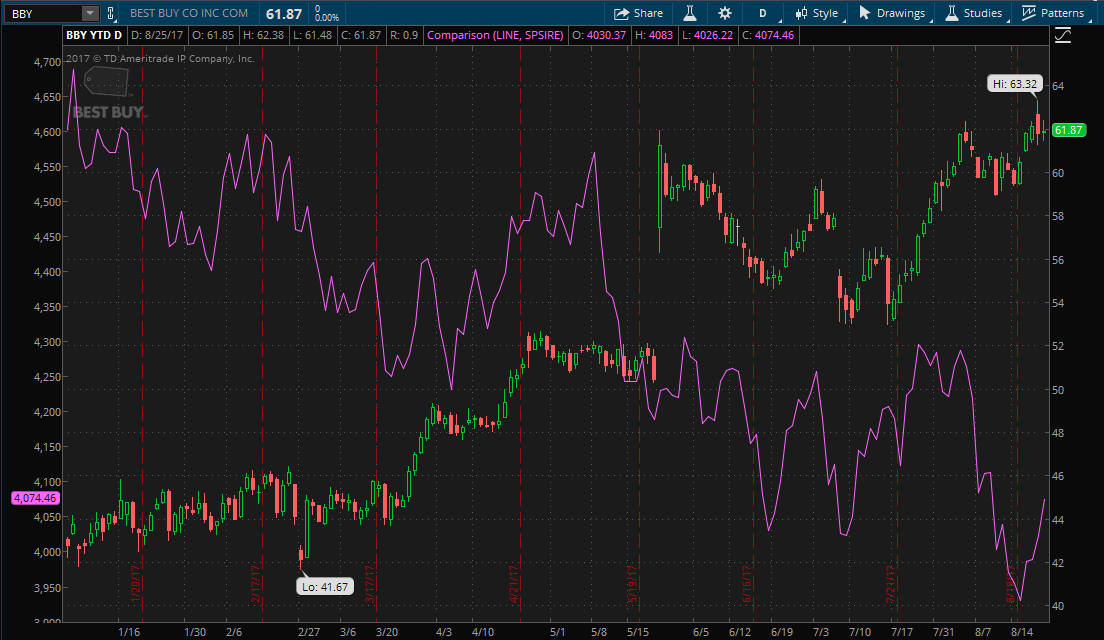 FIGURE 1: OUTPERFORMING RETAIL. Best Buy (BBY) shares have risen 44.69% year-to-date, significantly outperforming the S&P 500's (SPX) 8.2% increase and the S&P Retail Select Sector Index's (SPSIRE) 11.46% decline over the same time period. BBY is charted above compared to the SPSIRE (purple line). Chart source: thinkorswim® by TD Ameritrade. Data source: Standard & Poor's. Not a recommendation. For illustrative purposes only. Past performance does not guarantee future results.
Best Buy Options Activity
After a big jump following last quarter's earnings report, BBY gave up some of its gains, but shares have continued to climb since early July and the stock just reached a new all-time high of $63.22 on August 24. Options traders have priced in about a 8.5% potential share price move in either direction around its upcoming earnings release, according to the Market Maker Move indicator on the thinkorswim® platform.
In short-term trading at the September 1 expiration, calls have been active at the 62 and 64 strike prices, while puts have been active at the 57 strike. As of this morning, the implied volatility is at the 95th percentile.
Note: Call options represent the right, but not the obligation, to buy the underlying security at a predetermined price over a set period of time. Put options represent the right, but not the obligation to sell the underlying security at a predetermined price over a set period of time.
Looking Ahead
Now that earnings season has pretty much wrapped up, economic data and politics will be brought back to the forefront as some of the main factors driving markets. Light inflation has been problematic for the Fed as it slowly hikes rates and plans to start normalizing its balance sheet in the upcoming months. Personal Consumption Expenditure (PCE) inflation data comes out on Thursday, which will provide a look at the Fed's preferred measure of inflation that excludes energy and food prices, Core PCE.
Another issue that could bring volatility in the month of September is the federal government's approaching deadline to raise the debt ceiling. In the past, the ceiling has always been raised in time, although the process is typically accompanied by a lot of political grandstanding as both parties try to reach a resolution they can agree on.
_______
Image credit: Nicholas Eckhart
Licensed under the Creative Commons Attribution 2.0 Generic