We know higher rates are coming. We know Trump is pro-business. We know there will be less regulation. We know those are the reasons why Bank of America (NYSE:BAC) has risen 32% since the election. But what's past is past; investors need to make a decision today whether to hold the stock or to seek better returns elsewhere. In my previous article I talked about how I don't see any upside for Bank of America. Today I will talk about some of the things that need to happen for me to change my mind.
Higher Volatility
Despite global uncertainty (terrorism, EU breakup, etc.), volatility (NYSEARCA:VXX) has remained very low domestically.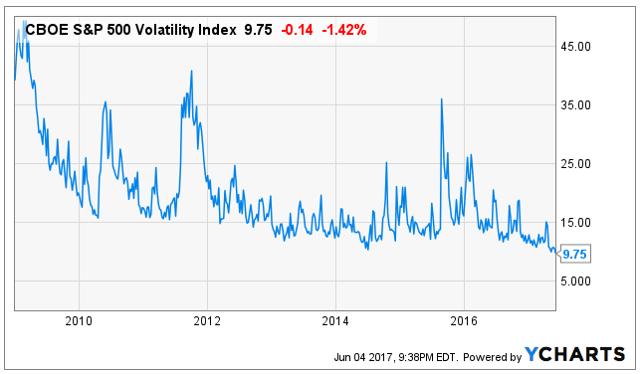 This doesn't make much sense to me since S&P 500 companies generate roughly half of their revenues in foreign countries, hence global events will have major implications. Granted, we've yet to experience anything extreme such as a major terrorist attack or the disintegration of the EU (yes, the U.K. is leaving the EU, but I don't believe this will have major economic consequences), but the road ahead is still a bit foggy. Note that this does not mean that I'm pessimistic about the global economy; it's just that I think the short-term outlook is less certain.
My personal opinion doesn't matter of course, volatility is dictated by the market, and the market has spoken. Because volatility correlates with trading revenue, the low volatility is hampering Bank of America's earnings. As the CEO mentioned at a conference, trading revenue is set to decline in Q2. I believe that this is a low hanging fruit from Bank of America, as there is no incremental cost to generate add itional trading revenue since it's all market based. Because volatility is so low already, I believe that it could a source of upside.
Better Valuation
Bank of America has historically traded at a discount to book value. Today that discount is mostly gone. For me, this means that the easy money has been made.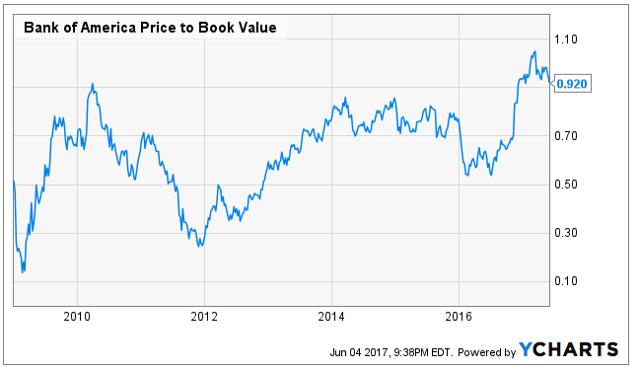 Looking at the chart above, we can see that the stock has hardly ever traded above the book value. This means for there to be opportunity, the best bet would be to wait until a significant discount reappears (say 30%). Yes the stock can always get cheaper (see 2011), but that is when I believe an investor should be backing up the truck.
There are two ways for the discount to reappear. The most obvious one is for the stock to fall, which is not the most likely scenario in my mind given that the market still seems to have hope for Trump. But even if the stock just stays flat, the P/B ratio will decline if the company continues to generate earnings. As I do not foresee any major economic shock ahead of us, I fully expect the company to generate positive earnings in the near future. If after a couple of quarters the stock fails to capture the cumulative earnings, leading to a lower P/B ratio, that's when I believe investors should strike.
Conclusion
At the cu rrent price level I still don't see much upside for the stock. But I could change my mind if volatility picks up or if the stock trades at a significant discount again. Higher volatility should result in higher earnings without any hard work (i.e. low hanging fruit) while a lower valuation will logically create more upside as the rebound to fair value (i.e. 1x P/B) translates to higher gains for investors as the discount increases.
Author's note: Click the "Follow" button beside my name on the top of the page to be updated with my latest insights. To learn more about the Core Value Portfolio, whose goal is to compound capital at 20% over the long term, I encourage you to read the introduction to my investment process. Premium subscribers get full access to the Core Value Portfolio.
Disclosure: I/we have no positions in any stocks mentioned, and no plans to initiate any positions within the next 72 hours.
I wrote this article myself, and it expresses my own opinions. I am not receiving compensation for it (other than from Seeking Alpha). I have no business relationship with any company whose stock is mentioned in this article.
About this article:ExpandAuthor payment: $35 + $0.01/page view. Authors of PRO articles receive a minimum guaranteed payment of $150-500. Become a contributor »Tagged: Investing Ideas, Long Ideas, Financial, Regional – Mid-Atlantic BanksProblem with this article? Please tell us. Disagree with this article? Submit your own.Follow General Expert and get email alerts