Last October, we issued a trading call to buy Bank of America Corp. (NYSE: BAC) on the drop to $15. This was shortly before the stock rallied to its 52-week high at $25.50, which generated gains of over 61%. Over the past few weeks, we have seen the market give back some of those gains, and we have received messages from readers asking whether it still makes sense to be holding these positions. Categorically, the answer is still a clear "yes," as the recent declines have been driven by external events that have done almost nothing to alter the fundamental strength of the company. Further, these declines should be viewed as another buying opportunity to gain exposure in a solid company that stands to benefit greatly from the next round of rate hikes that are expected at the Federal Reserve.
First, it is important to calm some of the concerns that have altered sentiment and sent market valuations lower in BAC. The initial stock optimism that was generated by the election of US President Donald Trump has dropped off in recent weeks, as global tensions and earlier hurdles in passing healthcare reforms have suggested a state of political gridlock that could ultimately slow progress in other expected government programs. Surprise military actions in the Middle East have also indicated that previous Trump policies are being called into question in favor of a more hawkish stance in the region. This inspired many investors to begin waving the "uncertainty" flag and start taking any opportunity to capture profits in stocks while equities' valuations are still trading at elevated levels.
But what is important to remember is that these events will likely have little on the interest rate outlook and even less impact on the strengthening performance that is se en within Bank of America as a whole. It seems investors have already forgotten the 47% increase in profits in the fourth quarter and the fact that this has gone far to remove the "inefficiency" arguments that had been put forth ad nauseam by BAC bears previously.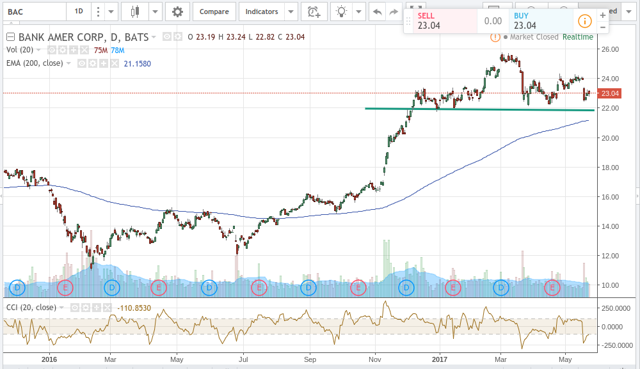 If there is any cause for concern at this stage, it comes from the fact that stock prices might have rallied too far, too quickly – and that the corrective nature of the market will have to push through a few rounds of profit-taking before we can see additional runs higher. Currently, we are seeing what could be the early stages of the ominous head-and-shoulders pattern on the daily charts, and downside violation of neckline price support at $22 could generate more bearish momentum in BAC. This still looks unlikely, however, given the fact that the right shoulder is higher than the left shoulder, and a clear break of $22 would also mean prices would force through the 200-day exponential moving average, which is quickly rising into this region.
The reality is that the Federal Reserve still holds all of the cards in determining where interest rates are headed – and the flurry of recent Fed commentaries suggests that there is little concern over what many have dee med to be "weakening" economic data reports. The Fed is clearly more concerned about potential consumer inflation spikes, and the prospect of higher rates means the recent declines should only be viewed as a buying opportunity for those looking to take long-term positioning stances in revenue generators like BAC.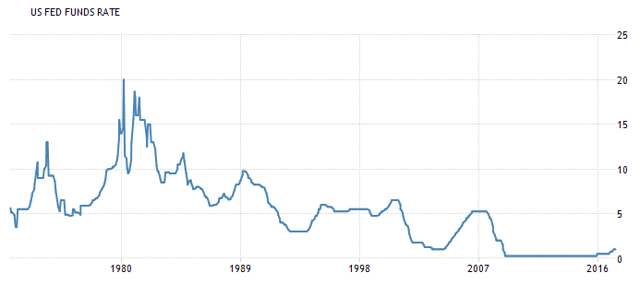 Nothing in these recent news events has done anything to change the policy outlook at the Fed, but this does not mean there is anything wrong with the idea of taking a more conservative stance with respect to banking stocks. If you are an investor looking for more diversification, you might consider using the recent market drop as an argument to start buying into the SPDR S&P Bank ETF (NYSEARCA:KBE), which includes BAC and tracks the performance of the S&P Banks Select Industry Index.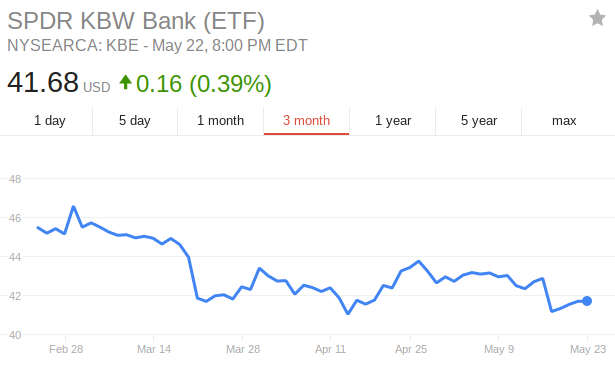 But unless we start to see substantive arguments for why the earnings outlook at BAC is truly deteriorating, it makes much more sense to hold long positions (and to even build on those positions) through these price declines. The true line in the sand is relatively clear at this stage, as longer-term support at $18 will need to give way in order to reconsider the validity of the bullish stance.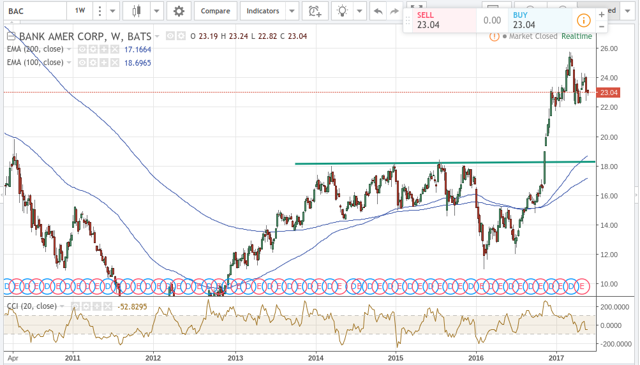 This area marks the 100-week exponential moving average prior quadruple-top resistance and the breakout point for the previous rally. We will look to build on long positions as long as the markets are able to hold above this level.
Disclosure: I/we have no positions in any stocks mentioned, and no plans to initiate any positions within the next 72 hours.
I wrote this article myself, and it expresses my own opinions. I am not receiving compensation for it (other than from Seeking Alpha). I have no business relationship with any company whose stock is mentioned in this article.
About this article:ExpandAuthor payment: $35 + $0.01/page view. Authors of PRO articles receive a minimum guaranteed payment of $150-500. Become a contributor »Tagged: Investing Ideas, Long Ideas, Financial, Regional – Mid-Atlantic BanksProblem with this article? Please tell us. Disagree with this article? Submit your own.Follow Dividend Investors and get email alerts