Background:
To begin this article, let's take a trip back to July 27th. AstraZeneca (NYSE:AZN) investors received the worst possible news with the news headline "AstraZeneca lung cancer immunotherapy trial failure sends shares plunging" effectively summing everything up. Shares absolutely were sent "plunging", wiping off 10B pounds in value, the sharpest drop that the company has EVER had: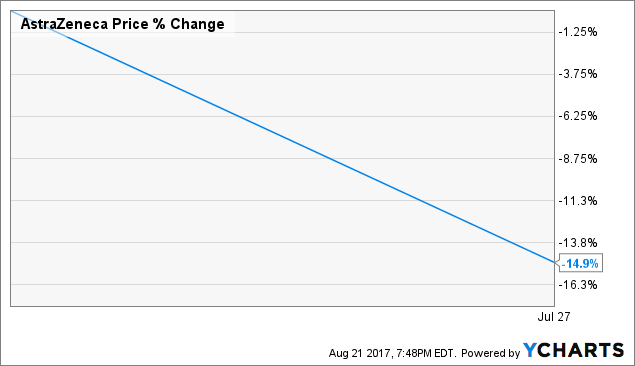 Was this drop a complete overreaction? Well, I'd say so. The MYSTIC trial was testing the immuno-oncology drug Imfinzi to further survival in lung-cancer patients rather than use chemotherapy. You may be wondering why one failed drug trial would hurt an established, tenured pharma giant. Sure, it makes sense when a biotech and small-cap pharma soars 20% or more on positive data readouts and approvals, and tanks 20% or more when there is a poor readout of regulatory roadblocks. Those companies generally do not have the capital to continue funding further operations, and were relying on their prospective treatment to further their tenure in the industry. So again, why would a company with a market cap of over $73B and cash & cash equivalents of over $5B drop the way it did? The answer lies in the IO market, and its sheer size. According to the Telegraph, the Immuno-Oncology market is valued at $8B today, and is expected to reach $50B later on. According to PMR's lat est report, the market size is supposed to reach around $27B by the year 2025. After taking this all into effect, it makes sense why AZN took the tumble it did. Lung cancer treatment is one of the biggest unmet needs in medicine, and the failure of Imfinzi in its largest trial absolutely crushed the prospects of the company breaking out a blockbuster, innovative drug. This created a ripple effect in the industry, with Merck shares moving higher as they solidified their position in lung cancer treatment. Bristol Meyers reacted in the negative, as they are testing the potential combination of Opdivo and Yervoy for their own IO trial study.
So Where's the Value?
The same day they failed with Infinzi, AstraZeneca announced that they will co-fund and co-partner with Merck to further develop and market Lynparza, AZN's PARP inhibitor.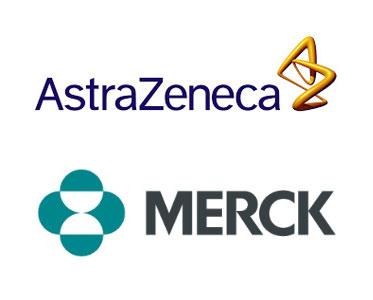 CEO Pascal Soriot said:
By bringing together the expertise of two leading oncology innovators, we will accelerate LYNPARZAs potential to become the preferred backbone of many immuno-oncology combination therapies as the worlds first and leading PARP inhibitor
This was announced the same day as the failure of the Mystic trial, and was deservedly overshadowed in trading. I believe that this agreement will be tremendously beneficial for AZN, as they will be using less capital to get an strong IO product to the market (development of Lynparza in combination with Imfinzi and Merck's Keytruda) is the way to move after such a disastrous R&D result.
Lynparza is especially important today as the FDA just announced its approval for a broader label for second-line treatment of ovarian cancer, which is a big change from its previous indication for advance ovarian cancer treatment after three rounds of chemotherapy (FDA also approved an oral formula tion of the drug). This is welcome news, as the FDA finding scientific merit in the drug will be a confidence booster for AZN continuing its pursuit of the drug's development for breast and pancreatic cancer.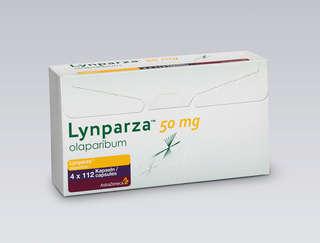 Now there are very legitimate risks that AZN faces. Deteriorating profits due to generic entrance has hampered results, and the FDA is getting friendlier with generic manufacturers. In addition, the risk of having upset shareholders clamoring for the company to accept a weak takeover offer is always present. AZN rejected Pfizer's approach just three years back, with its process in IO research a major fighting point. That is now in jeopardy after Mystic's nightmare.
But here's what matters: AZN is valued at such a depressed multiple that simply does not properly factor in catalysts such as the FDA's decision to still assign breakthrough designation for Imfinzi in NSCLC, its partnership with Merck, its future success and market retention potential with Lynparza over Tesaro's new drug Zejula, and its more recent partnership with Champions Oncology to develop PDX models that will improve the R&D process for AstraZeneca. Below is a comps comparison courtesy of Bloomberg:
| | | | | | | | | | |
| --- | --- | --- | --- | --- | --- | --- | --- | --- | --- |
| Name | Tkr & Exch | Mkt Cap (USD) | EV/Next Yr Est Sales | EV/EBITDA Nxt Yr | EV/Next Yr Est EBIT | BEst P/E:2FY | P/B | BEst PEG Ratio:2FY | BEst LTG EPS:D-1 |
| Market Cap Weighted Average | | 83039159047 | 4.64 | 13.34 | 15.68 | 15.42 | 18.78 | 2.43 | 6.65 |
| ASTRAZENECA PLC- SPONS ADR | AZN US | 73314845879 | 4.03 | 12.39 | 19.23 | 15.06 | N.A. | 2.69 | 5.6 |
| GLAXOSMITHKLINE PLC | GSK LN | 93930074329 | 2.95 | 8.63 | 12.94 | 13.04 | 89.17 | 1.99 | 6.56 |
| MERCK KGAA | MRK GR | 46519220674 | 3.22 | 11.15 | 18.92 | 14.02 | 2.87 | 2.32 | 6.04 |
| BAYER AG-REG | BAYN GR | 1.0395E+11 | 1.94 | 7.86 | 10.51 | 13.12 | 2.69 | 1.74 | 7.56 |
| NOVO NORDISK A/S-B | NOVOB DC | 1.14294E+11 | 5.95 | 12.86 | 13.77 | 17.32 | 14.65 | 2.92 | 5.94 |
| SANOFI | SAN FP | 1.22254E+11 | 3.01 | 9.93 | 14.76 | 13.68 | 1.79 | 2.7 | 5.07 |
AZN has a forward EBITDA multiple of 12.39 (lower than the current TTM multiple of 12.43, and this is much lower than their EV/TTM EBITDA multiple of 14.65. While I understand the impact of the Mystic trial, the company has an enormous portfolio and tremendous collaboration projects that will yield solid cash flow in the future. I think that the company could realistically be trading at an EV/EBITDA of 13.75, which would push the stock up a considerable amount. This stock has at least 10% to today's price, with the potential to jump over 25% over the next year depending on how their collaborations and pipeline progress.
Investor Takeaway
The 10B pounds wiped off of AZN's equity value was deserved after it failed a pivotal lung cancer trial for its Imfinzi treatment, but the company has since restored confidence through its Lynparza success and its impressive collaboration record. Companies in the IO space are focusing more on c ollaboration (think Celgene), and it is a much smarter model in terms of capital structure and R&D spend. This company has a decent foothold and may jump considerably in the short term.
Disclosure: I/we have no positions in any stocks mentioned, and no plans to initiate any positions within the next 72 hours.
I wrote this article myself, and it expresses my own opinions. I am not receiving compensation for it (other than from Seeking Alpha). I have no business relationship with any company whose stock is mentioned in this article.
About this article:ExpandAuthor payment: $35 + $0.01/page view. Authors of PRO articles receive a minimum guaranteed payment of $150-500.Tagged: Investing Ideas, Long Ideas, Healthcare, Drug Manufacturers – Major, United KingdomWant to share your opinion on this article? Add a comment.Disagree with this article? Submit your own.To report a factual error in this article, click here