Business
As a company, Carter's (NYSE:CRI) primarily operates in the baby and young child apparel segments. Its main brands are Carter's and OshKosh, with the latter being acquired in 2005. As of 2016, these two brands have combined to hold a market-leading share of 17.8% (14.9% for Carter's & 2.9% for OshKosh) in the $21 billion target market for kids between the ages of 0 and 7 years old. The company competes primarily with Disney (NYSE:DIS), Gymboree, Gap (NYSE:GPS), Old Navy, and the Children's Place (NASDAQ:PLCE) in that space. In addition, the company's store count has also been quite impressive, with it almost doubling since 2011.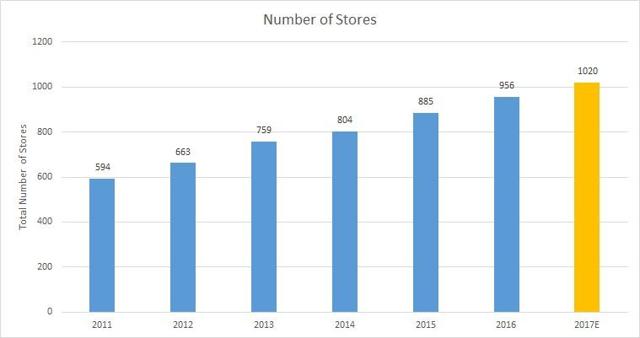 (Source: I created images using data from Carter's 10-K filings)
In the latter half of 2016, Carter's acquired Skip Hop for $140 million. Skip Hop operates baby products market, selling gears such as high chairs, diaper bags, and baby gyms. Management has indicated that Skip Hop operates in a relatively stable $9 billion market, but I'm currently unsure about how much share that company holds.
Segment Breakdown
In its latest 10-K filing, Carter's broke down its business segments into five parts: Carter's Retail, Carter's Wholesale, OshKosh Retail, OshKosh Wholesale, and International Sales. Management also indicated in its Q4 2016 earnings call that starting in Q1 2017, these segments would be merged even further to be simply U.S. Retail, U.S. Wholesale, and International Sales.
While I am sure that there are good reasons for this segment consolidation, I don't think that analyzing Carter's based on just those three segments is suitable at this time. Based on Carter's past few 10-Ks and earnings calls, I would argue that there are seven distinct areas that we need to focus on when projecting the company's future:
U.S. Retail U.S. Wholesale Domestic e-commerce Canada Other International China Skip Hop
The most significant of these changes is the addition of the Domestic e-commerce segment. Before I split it out, Carter's had reported it under the retail segment um brella, combining the revenue and profits generated online with the amount it got from in-store sales. After going back through the past few 10-Ks, I managed to break out the revenue between segments into the tables below. Disclaimer: Because of the way Carter's reported its e-commerce segment, I was not able to get the exact numbers for the retail and e-commerce segments. However, I do feel that the following tables provide a reasonable estimate of where each segment stood between 2011 and 2016.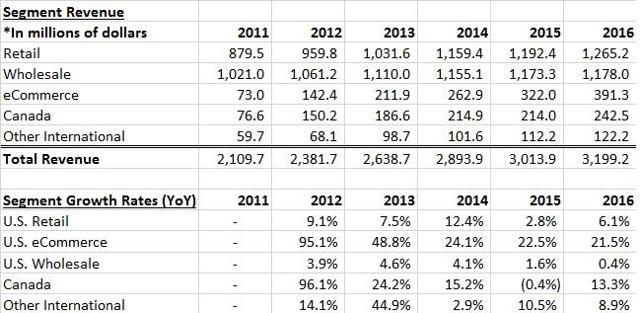 As you can see, the year-over-year growth rate of the e-commerce segment vastly outpaces its retail counterpart. This has shown in the percentage of total revenue it makes up, growing from just 3.5% of revenue in 2011 to 12.2% of revenue in 2016. It is clear from these tables e-commerce revenue growth is going to be one of the main drivers that will need to "hit" in order for Carter's to succeed in the coming years.
Moving on, I decided to split out Canada from the International segment for a simple reason: Canada has basically been the bulk of Carter's international sales, growing from 56.2% in 2011 to 66.5% in 2016. Therefore, it made sense to make its own separate segment for Canada.
Lastly, while China and Skip Hop were not key segments in 2016 due to them not being started up until later in the year, management has indicated in its latest earnings call that it has pretty significant targets for them to hit in the next five years. Therefore, I decided to split it out for modeling purposes.
Financials
Carter's financials are quite impressive, and especially so for an apparel company.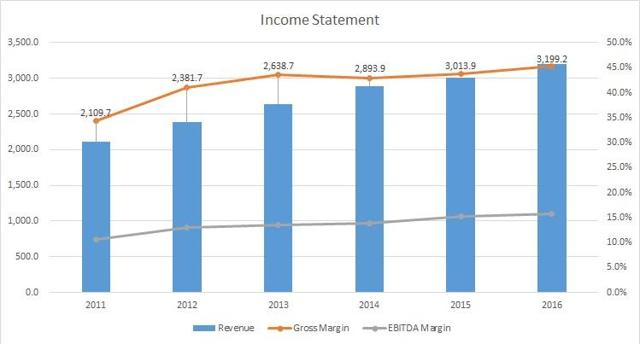 (Source: Image created using data from 10-K filings)
Revenue has grown at a decent clip for the past 5-6 years. Gross margins have expanded from 34.4% (2011) to 45.3% (2016), and EBITDA margins have grown from 10.7% (2011) to 15.7% (2016). While not shown on the above graph, net margins have also benefited, increasing from 5.6% to 8.2%.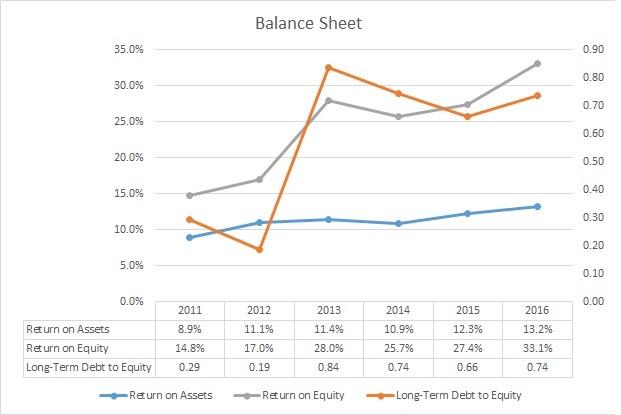 (Source: Used data from Carter's 10-K filings for the above calculations)
Taking a quick look at the balance sheet, everything seems pretty clean there for Carter's as well. I especially like the fact that ROA and ROE have slowly trended upward over the years, reflecting greater business efficiency by the company. While downtrend of the current/quick ratios is something to keep an eye on, they still remain quite healthy and are not a cause for concern at the moment.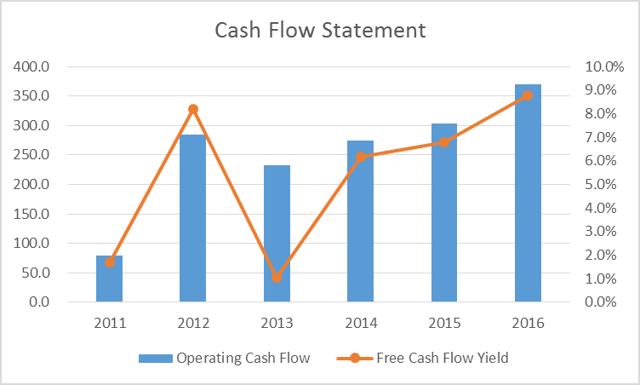 (Source: Image created using data from Carter's 10-K filings)
On the cash flow statement, Carter's produces a solid amount of operating cash flow and an average FCF-to-sales of ~5.4%, making it a potential "cash cow". While the sudden drop in 2013 is worrisome, a deeper look seems to indicate a higher-than-average capital expenditure spending for that year, which resulted in the lower yield.
Overall, I think Carter's financials look pretty good for an apparel company. Increasing revenues and margins, a strong balance sheet, and solid cash flow statement make me like where the company is currently at. With Carter's holding the largest market share in the young kids apparel market, it appears that its competitive advantage has translated into its financial performance.
Growth Opportunities
In my opinion, there are a couple opportunities available to drive Carter's growth over the next few years. While the company's retail and wholesale segmen ts will continue to be the bulk of its sales for the foreseeable future, the key segments to keep an eye on will be outside of those two divisions.
As mentioned in previous sections, Domestic e-commerce will be a large growth driver going forward. In 2016, Carter's did about $390 million online sales. By 2021, management hopes to increase that by at least $350 million, almost doubling what e-commerce is currently generating at this point in time.
The expansion of e-commerce makes Carter's new partnership with Amazon (NASDAQ:AMZN) intriguing (started in the latter half of 2016). Amazon currently holds about 3.0% of the young child apparel market and was the largest contributor to the market's online growth. The second? Carter's. Being able to partner with such an online behemoth could allow Carter's to penetrate any additional markets that it wasn't able to reach before.
Although international sales continue to increase, the two countries to keep an eye on would be Canada and China. Carter's has seen impressive revenue and earnings growth in the former and has taken a 19.0% market share in the country. It will be key for Carter's to continue expanding its presence in Canada over the coming years.
Meanwhile, Carter's has also begun its forays into China last year, partnering with Alibaba's (NYSE:BABA) Tmall and the Chinese retailer Pou Sheng (OTC:PSHGY) to sell its products. This has already generated about 6 million in sales. The company aims to generate $80-100 million in revenue from China by 2021. This is a huge market opportunity, as analysts predict the young child apparel market to basically double over the next decade in China alone (~$12 billion in 2016 to $25 billion in 2025).
Lastly, the new Skip Hop acquisition was highlighted by management in its Q4 earnings call and presentation. While I don't claim to fully und erstand the mechanics of that business, it seems like a nice add-on to Carter's, as it generated about $86 million in revenue last year. Management seems quite optimistic on the growth of this business, aiming to double Skip Hop's revenues and EPS by 2021.
Risks
Despite the company's strong financial position and clear future growth opportunities, there are several possible headwinds that could potentially set back or derail Carter's.
The first risk factor resides in those same growth segments that were listed in the section above. While Carter's is not completely reliant on Domestic e-commerce, Canada, China, and Skip Hop for its future growth, those divisions do contain a large chunk of it. If multiple of those segments fail to meet expectations, then overall growth could slow or stagnant entirely.
Another risk for potential investors to keep an eye on is Carter's in-store comparable sales. When looking at the graph below, it appears that Carter 's comparables have done well over the past couple of years: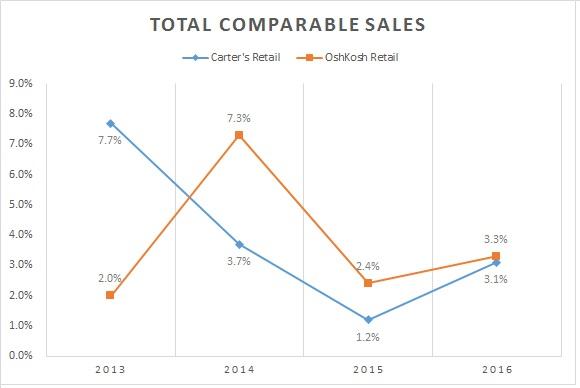 (Source: Image created using data from Carter's 10-Ks)
However, it becomes a lot uglier when you strip out the e-commerce effect from those metrics, as shown in the graph below.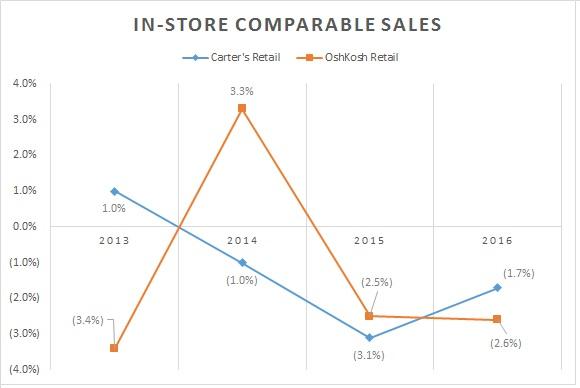 (Source: Image created using data from Carter's 10-Ks)
In its latest conference call, management noted that discrepancy, and indicated that:
To improve the convenience of shopping for our brands, we have been reducing the mix of outlet stores by opening stores closer to consumers. In 2016, over 40% of our stores were located in outlet centers. These are some of our largest most productive stores. But given the decline in international shoppers and the preference for convenience, these stores posted the weakest comp store performance last year. By 2021, we expect the mix of our outlet stores to be less than 30% of our store portfolio.
If this information is correct, then an interesting dichotomy has emerged for Carter's where its most productive stores are also the ones dragging down its comparable sales benchmarks. I believe that this transition will be a key aspect for investors to keep an eye on in order to see if Carter's plans actually pan out . This becomes even more important considering Carter's store growth over the past several years; if comparable sales continue to falter, then a large chunk of its growth could be called into question.
The last area to address would be related towards more macroeconomic factors. It is no secret that retail and apparel stocks haven't had the best year in general. If the downward pressure continues, then investors may have to wait longer than expected for Carter's stock price to turn around. Additionally, an implementation of Trump's border tax on imports (~20%) would significantly hurt Carter's because the company sources most of its apparel from Asian manufacturers.
Management's Targets
Before attempting to value a company, I try to take a look at what management's targets are and see how well it has forecasted its business in the past. Due to time constraints, I was only able to look at its Q4 earnings calls from the past five years.
For its Q4 2016 call, Carter's forecasts for fiscal year 2017 were:
Revenue growth of 4-6% EPS growth of 8-10% Operating cash flow of $325-350 million Capital expenditures of $100 million 60 new "co-branded" U.S. stores, 40 new China stores, and 15 new "co-branded" Canada stores
By the end of 2021, the company hopes to achieve the following:
At least $4 billion in sales Grow revenues at ~6.0% CAGR for the next five years 10% EPS growth per year $350 million in additional e-commerce sales $80-100 million of total revenue in China $100 million in additional revenue from Canada Double Skip Hop's revenues (~$86 million as of 2016) and EPS Open 240 additional U.S. stores (co-brand ed) and 50 additional stores in Canada
Judging from the past financials, many of these goals seem relatively obtainable. The real question, of course, is how realistic are these expectations? When I reviewed how Carter's past management goals have fared, the results were mixed.
The good news was that Carter's has historically been pretty good at projecting its current fiscal year. Over the past five years, it has consistently hit or exceeded its revenue, EPS, OCF, and Capex guidance. Additionally, it has also been decent at meeting its store openings targets. Because of this, I am pretty comfortable with management's 2017 guidance at this time.
The bad news is that its five-year targets have tended to lean on the more optimistic side of things. The most striking of these projections is the $4 billion revenue target that management set back in Q4 2013, aiming to hit that by the end of 2018. That has been pushed back consistently each year to where we are tod ay. While I do think that achieving $4 billion in sales by 2021 is relatively feasible for Carter's, it is something to think about. Other setbacks include the failure to bring up OshKosh's profitability by 2017 and not being able to fully hit its international sales targets.
Projecting Carter's Next Few Years
Of course, the million-dollar question is whether Carter's management will be able to hit its goals for the company's key growth segments. Let's take a look at the following table, which shows the 2021 targets set by management, and the annual growth rate required to reach it for each segment. (I'd like to reiterate at this time that the 2016 numbers are my best estimates based on the information I could find and interpret.):

Looking at the figures, I think that meeting the Domestic e-commerce target will be pretty easy for Carter's, especially considering its 20%+ year-over-year growth rate right now. Canada also seems feasible considering that it has been growing at a double-digit rate for the most part (exception being in 2015).
While I think China's target is possible, it will take good execution on Carter's part and the expectation that its brand equity in the United States will carry over. Unfortunately, I don't know enough about Skip Hop to formulate an opinion on its projection at this time.
The more important target, of course, is whether Carter's will be able to hit that $4 billion revenue target by the end of 2021. If we assume a 6.0% revenue growth rate over the next five years (in line with management expectations), we will end up with about $4.28 billion, about 7% above its target. While that wiggle room is reassuring to see, I decided to test out a much more be arish scenario in the table below:


While there are always even worse scenarios, I would argue that this could already be a worst-case scenario for Carter's. These projections basically have nothing going right for Carter's. U.S. Retail and Wholesale growth rates are well below their historical averages, and a similar story plays out with the "Other International" segment. In addition, none of Carter's growth segments (e-commerce, Canada, China, and Skip Hop) come remotely close to hitting their targets either.
After all that carnage though, Carter's is still only about $100 million off its $4 billion target by the end of 2021! Since it seems reasonable to expect that at least a couple of segments will at least perform average over the next five years, I feel quite confident in Carter's ability to reach its $4 billion revenue target by the end of 2021.
Valuation
To value Carter's, I just ran a discounted cash flow model for three different scenarios: a base case, a bear case, and a bull case. This is based on Carter's closing share price at the end of the day on April 6th, which was $89.03.
Before I run through the various scenarios, I wanted to make a note about the WACC that I used. When I initially ran the calculations, I was ending up with a WACC between 4.0% and 5.0%. I felt that this was a bit too low, so I decided to increase it to 8.0%. While I don't claim to know the best discount rate to use when valuing Carter's, having it at around 8.0% gives it an additional margin of safety at worst.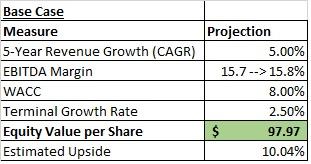 The base case had Carter's growing revenues at 5.0% per year, with a flat EBITDA margin (unlike the gradual improvement over the past few years). With a terminal growth rate of 2.50%, Carter's would have about a 10.0% upside in this scenario.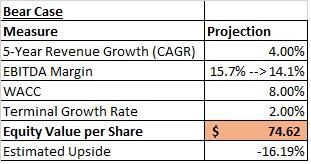 The bear case had Carter's only growing revenues at 4.0% per year (2.0% less than management's target). The improvements in EBITDA margin over the past couple of years reverse and trend lower due to increasing COGS and SG&A costs. The terminal growth rate is only 2.00% in this scenario, resulting in a downside of about -16.2%.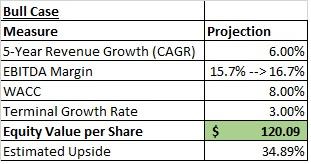 In the bull case, Carter's basically hits on the targets set by management. Revenues grow at 6.0% CAGR, and the company's EBITDA margin continues to trend upwards, increasing from 15.7% to 16.7%. A terminal growth rate of 3.00% here would yield approximately a 34.9% upside in this scenario.
Overall, I think there is definitely a good case for Carter's being slightly undervalued. The bull case seems reasonable, as it just requires Carter's simply meeting its set goals. Meanwhile, the bear case has both revenue and margin growth going against Carter's, making the projected downside quite impressive. Finally, the base case combines a lowered revenue growth rate and flat margins, showing that there is still value even if Carter's "treads water".
Although I think $120 stock price for Carter's is highly unlikely, I think that it is not unrealistic for the stock to trade between a price target of $98 to $101 in one year's time (~17.5 to 18x FY2017 EPS).
Conclusion
Currently, Carter's is sitting quite well from a competitive standpoint. Its strong brand equity, reasonable multiples, improving financials, and clear growth opportunities make it one of the safer plays in an industry that is undergoing some turmoil.
That is not to say Carter's is under no threat, however. Multiple large competitors reside in the industry it operates in, and their presence could eventually stagnate or reverse the company's margin expansion. In addition, its aggressive store growth plan will have to be monitored to make sure the company is not sacrificing quality for quantity.
Overall, though, I think Carter's offers a good opportunity for investors to invest in a company that will perform well over the long term. While the company is not trading at an extremely large discount, it might be a decent time to consider initiating a position at its current share price.
Disclosure: I am/we are long CRI.
I wrote this article myself, and it expresses my own opinions. I am not receiving compensation for it (other than from Seeking Alpha). I have no business relationship with any company whose stock is mentioned in this article.
Additional disclosure: I/we have no plans to increase my/our position in the next 72 hours.
About this article:ExpandAuthor payment: $35 + $0.01/page view. Authors of PRO articles receive a minimum guaranteed payment of $150-500. Become a contributor »Tagged: Investing Ideas, Long Ideas, Consumer Goods, Textile – Apparel ClothingProblem with this article? Please tell us. Disagree with this article? Submit your own.Follow Nathan Lee and get email alerts