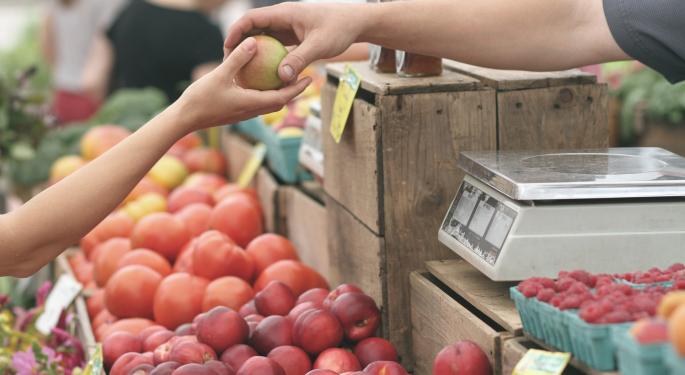 Related AMZN Benzinga's Bulls & Bears For The Past Week: Amazon, Best Buy, Nike, Wells Fargo And More Deutsche Bank: Kroger Likely To Improve In Q2, Shares 'Attractive' Despite Competitive Pressure Costco After the Recent Correction: Overvalued or Undervalued? (GuruFocus)
With the Amazon.com, Inc. (NYSE: AMZN)'s Whole Foods Market acquisition finally here, the notoriously expensive grocery store is seeing some much needed price cuts, as much as a 43 percent price reduction on certain products.
Whole Foods now presents a unique opportunity to disrupt retail thanks to Amazon's preference for emphasizing market share over profits. Competitors will have to step to the plate quickly and deliver new innovations or risk obsolescence in a extremely low margin and competitive business.
Related Link: Why Wal-Mart Is 'Under Siege', And Not Just From Amazon
"They can afford and don't mind to operate their business at a loss or at a break even when they are trying to develop a business. They can easily compete with everybody on price and win," Tigress Financial Partners CIO Ivan Feinseth told Benzinga. "The first goal is to increase traffic to the store through lower prices."
Feinseth believes Amazon will be able to sustain lower prices at Whole Foods for three reasons:
Their expertise in logistics and fulfillment and sourcing will be able to reduce the cost of goods sold and operational cost at whole foods. They will increase volume through lower prices and improved shopping experience. The added value benefit for Amazon prime members.
Throughout Amazon's history, the company has executed on two main goals that have driven business significantly: understanding customer preferences and emphasizing market share over profits. Through the Whole Foods acquisition, the e-commerce giant will be able to further these aims and learn more about their customers buying habits in a new market.
A key reason for the success of many of the biggest companies in the world — Alphabet Inc (NASDAQ: GOOG) (NASDAQ: GOOGL), Netflix, Inc. (NASDAQ: NFLX), Apple Inc. (NASDAQ: AAPL) and Facebook Inc (NASDAQ: FB) — is due to how much they know about consumer psychology. Amazon is no different, and their acquisition of Whole Foods will undoubtedly deepen the company's understanding of the consumer.
"If you can assess what peoples buying patterns are then you have an opportunity to better market to them," said Feinseth.
"Amazon did it in the very beginning with books; they got a profile of the books you liked or purchase, to get a picture of your interest. The better you know your customer the more you can better fulfill their demand or needs, or win their interest."
Latest Ratings for AMZN
DateFirmActionFromTo
Aug 2017
SunTrust Robinson Humphrey
Initiates Coverage On
Buy
Aug 2017
Mizuho
Reinstates
Buy
Jul 2017
Morgan Stanley
Maintains
Overweight
View More Analyst Ratings for AMZN
View the Latest Analyst Ratings