The last time I wrote about Alibaba (BABA) was in June 2015 in the article titled:
Alibaba: Turnaround in Play, Current Stock Strength Will Continue
At the time the article was written, the stock was trading at about $90, since then the price increased about 88%. Alibaba is achieving strong year-over-year revenue and earnings increases. I see plenty of further growth ahead for the company, which is likely to drive the stock for more market outperforming gains.
Alibabas Growth Drivers
Alibaba is achieving strong revenue growth from the commerce business, which increased 58% in Q1 and comprises 85% of the companys total revenue. What I like about Alibabas commerce business is that it is spread out among millions of merchants and consumers. Therefore, the company is similar to Amazon (AMZN) since it doesnt depend on sales of a small product mix.
The reason why I think Alibaba still has plenty of growth left is a result of how CEO, Jac k Ma, is steering the company. Due to higher demand for U.S. products from consumers in China, Jack Ma launched an online network known as Taobao Global U.S. Merchants Network that will link small and medium sized U.S. businesses with 500 million consumers in China. Thats more people than the entire population of the U.S., which stands at about 325.7 million.
Alibaba has the new Taobao Global business that will help U.S. businesses sell their products to the China market in addition to the existing businesses which are growing at a strong pace. The Taobao Global business is likely to give Alibaba multiple years of strong revenue and earnings growth. All of the businesses together will allow Alibaba to maintain an above average growth rate, leading to above average stock gains.
Jack Ma is forecasting that Alibabas revenue will reach $1 trillion within three years. That might be a little bit of a stretch with FY2018s expected revenue to be $35 billion (consensus). Sales would have to more than triple every year to hit Jack Mas goal.
I think investors would be happy with revenue growth of over 47% for this fiscal year and the 33% growth for FY19, which are the current consensus estimates. Earnings growth is also expected to be strong as analysts project about 38% EPS growth for FY18 and 33% growth for FY19. The stock is likely to continue to increase at a market outperforming pace as these projections are met or exceeded.
Alibaba is also achieving strong growth from the cloud business, where revenue increased 96% in Q1. The quarter marked a milestone where Alibaba exceeded 1 million paying cloud customers and annual revenue exceeded $1 billion. Although the cloud business comprises a small percentage of the companys total revenue, it is likely to experience strong growth as many industries are implementing cloud services.
The company sees 1 million paying customers for the cloud business as just the beginning. The company is striving to expand this market to continually add more payi ng customers through further investment. Although the cloud business is making a small impact on the companys total revenue right now, the impact will increase over time.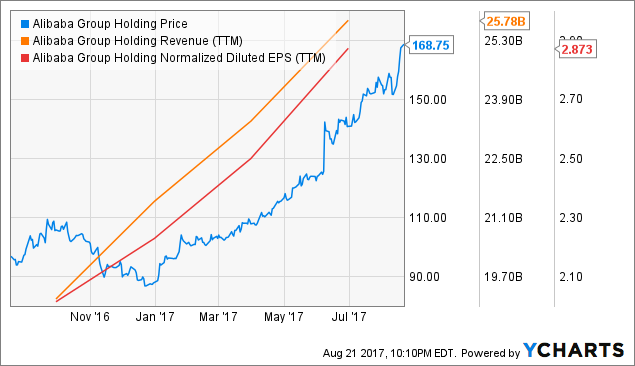 Alibabas Valuation is Fair Based on Future Growth
Some investors might dismiss Alibabas stock as overvalued based on the trailing PE of 65. However, I think it is better to look forward instead of backward. The forward PE of 26 is above average, but it is still reasonable due to Alibabas above average growth.
With that in mind, I like to use the PEG ratio for high growth stocks. The PEG factors in multiple years of earnings growth. So, it is a better measure of a high growth stocks valuation in my opinion. Alibabas PEG of 1.5 is reasonable as the company is growing earnings at a strong double-digit pace.
Many of the high growth stocks that I cover have PEG ratios between one and two. The stocks of these companies typically grow at strong double-digit rates about in-line with earnings growth. Since Alibaba fits into this mold, I think the stock is likely to increase at about 25% to 30% per year at least through FY19.
The Risks
Since the company uses a variety of merchants to sell its products, an issue could arise where a dishonest merchant causes a high-profile scandal. For example, a merchant or multiple merchants could be found selling counterfeit products. If this received a lot of press, it could have a negative effect on Alibaba.
The severity of the situation would depend on how quickly and effectively Alibaba responds to such a situation. If the company quickly removes the seller or the products in question from the website, there would probably not be much harm done. However, if the company drags their feet and doesnt appear to address the situati on, it could have a negative effect on the stock.
Conclusion
It looks like the high growth phase will continue for Alibaba for the foreseeable future. The implementation of the Taobao Global U.S. Merchants Network will help accelerate the companys already strong growth.
With a reasonable valuation based on future earnings growth, I think the stock can increase 25% to 30% over the next year, driven by earnings growth. This will give the stock a price target of $211 to $220.
That's what I think. Let me know what you think in the comment section below.
Disclosure: I/we have no positions in any stocks mentioned, and no plans to initiate any positions within the next 72 hours.
I wrote this article myself, and it expresses my own opinions. I am not receiving compensation for it (other than from Seeking Alpha). I have no business relationship with any company whose stock is mentioned in this article.
Additional disclosure: If you like my analysis, click on FOLLOW at the top of the article near my name. That will allow my articles to display on your homepage as they are published. The article is for informational purposes only (not a solicitation to buy or sell stocks). I am not a registered investment advisor. Investors should do their own research or consult a financial advisor to determine what investments are appropriate for their individual situation. This article expresses my opinions and I cannot guarantee that the information/results will be accurate.
About this article:ExpandAuthor payment: $35 + $0.01/page view. Authors of PRO articles receive a minimum guaranteed payment of $150-500.Tagged: Investing Ideas, Long Ideas, Services, Specialty Retail, Other, ChinaWant to share your opinion on this article? Add a comment.Disagree with this article? Submit your own.To report a factual error in this article, click here