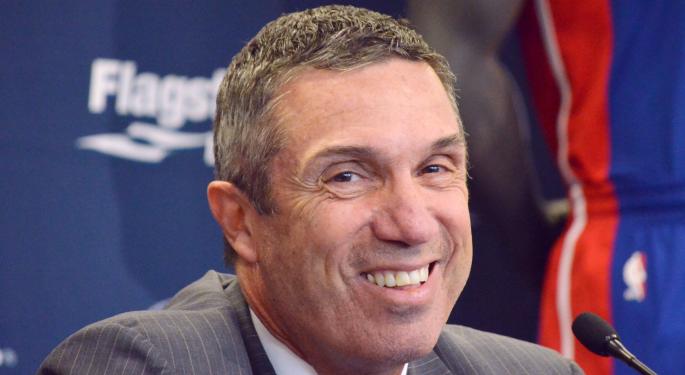 Related FBC Benzinga's Top Upgrades, Downgrades For August 31, 2017 Detroit Pistons, Flagstar Bank Sign Jersey Sponsorship Deal
When Alessandro DiNello was named CEO of Flagstar Bancorp Inc (NYSE: FBC) in 2013, the bank was on a financial precipice.
The bank's business was almost entirely mortgages. As the industry unraveled nationally, Flagstar accepted $267 million in TARP money in 2009 — as well as private equity financing — to maintain solvency.
"Only a few of us really understand just how challenging it was and how many obstacles we had to overcome to get the company in the position it's in today," DiNello said.
The $16-billion, Troy-based bank emerged with its name intact and is now a more diverse company with a growing consumer and commercial portfolio, DiNello said during an interview in Benzinga's Detroit newsroom.
"We're the only national thrift lender that actually made it through the crisis, got recapitalized and is still independent, so we're pretty proud of that."
A Shifting Business Mix
DiNello, 63, started his career in banking 38 years ago at Security Savings Bank, where he rose through the ranks to become president before the Jackson, Michigan-based bank was purchased by First Security Savings Bank — the precursor to Flagstar — in 1994. The company went public in 1997 on the Nasdaq exchange, switching to the New York Stock Exchange in 2001.
While Flagstar has diversified, it remains "a very significant" mortgage lender, DiNello said: The fifth-largest among banks nationally and 11th among all mortgage lenders.
"It used to be that 90 percent of revenue from Flagstar came from the mortgage business. Now it's 60 percent, and we're moving toward a 50-50 split."
The market values bank revenue at 3-to-1 versus mortgage revenue, making the transition important from a price-to-earnings perspective, DiNello said.
While public mortgage companies trade at roughly 6x earnings and banks trade at about 18x earnings, Flagstar's pricing is at 12-13x earnings, the CEO said.
"The reason is: We're kind of a hybrid."
Flagstar reported a second-quarter EPS of $0.71 against a $0.61 estimate and net interest income of $97 million versus an $88 million estimate on July 25.
'I Don't Think Dodd-Frank Should Be Rolled Back'
A Dodd-Frank replacement bill, the Financial Choice Act, passed the House of Representatives in June, and President Donald Trump has vowed to undo banking regulations enacted in the wake of the Great Recession.
It won't happen, DiNello said.
"First of all, I don't think there's any chance Dodd-Frank will be rolled back. I think there's a chance that there will be pieces of it that are modified. And I don't think Dodd-Frank should be rolled back," he said.
"I think the law itself is fine. I think the regulations it promulgated in some cases are not so fine."
A middle ground is needed, and congressmen and senators acknowledge this in private conversation, the CEO said. What legislators have been unable to do is come together and work out compromises, DiNello said.
In one example — stress tests — DiNello questioned whether the correct assumptions are being used for individual banks.
"We have the same stress test requirements of a very large bank. It doesn't make sense. Our business is different."
National Visibility
When Flagstar and the Detroit Pistons announced a jersey sponsorship deal in July, DiNello said the move would help bring awareness of the Flagstar nameplate.
The basketball team's move from the suburban Palace of Auburn Hills to the new Little Caesars Arena this fall marks the first time the Pistons will play in Detroit proper since 1977.
The NBA authorized jersey sponsorships last year, and Flagstar joins companies such as Goodyear Tire & Rubber Co (NASDAQ: GT), Fitbit Inc (NYSE: FIT), eBay Inc (NASDAQ: EBAY) and General Electric Company (NYSE: GE) in sponsoring a team's jersey.
"If you go to California, people in the mortgage business know Flagstar. People in the banking business don't," DiNello said. "[The Pistons sponsorship] helps us take our brand and expand it."
DiNello said he's looking forward to working with the Pistons and partnering with the team on community initiatives.
Flagstar is the presenting sponsor of the Pistons' Math Hoops, a community outreach initiative that helps students learn math fundamentals using the statistics of their favorite NBA players and is in place at 40 Michigan schools.
The image of Detroit itself has changed in the financial sector since DiNello took the helm at Flagstar, he said.
Detroit, which exited bankruptcy in 2014, is projected by the firm CBRE to enjoy $5.4 billion in capital investment in its downtown between now and 2020.
When DiNello was asked where he's from at CEO conferences five years ago, he said he often received a negative reaction.
"Now they're like, 'oh, we hear there's great things going on in Detroit," he said. "The word has finally spread and we can talk more confidently about it too, as Detroiters."
Flagstar Bank CEO Alessandro DiNello at the July 26 announcement of the company's jersey sponsorship deal with the Detroit Pistons. Photo by Dustin Blitchok.