Facebooks (FB) recent announcement that it will roll out a global advertising platform for its Messenger app should inspire more people to bet on this company. This move certainly convinced me to stay long FB. Mark Zuckerberg stated back in February 2014 that he personally believes that ads are not the right way to monetize messaging. It goes to show that Zuckerberg has now disregarded his personal preference in favor of Facebooks long-term welfare. He has accepted that advertising is now the best way to monetize Messenger.
Heres a screenshot of Zuckerbergs 2014 statement. The author of the 2014 article, Josh Constine said Zuckerbergs statement made sense because ads will allegedly stick out like sore thumbs on the highly personal/intimate nature of messaging.

(Source: Tech Crunch/Josh Constine)
The intimate nature of Messaging apps is vaporware. People who signed up and use free apps like Messenger and WhatsApp know that it came with a caveat. Facebook needs to make decent money to offset the bandwidth, cloud storage, server load expenses that 1.2 billion monthly active Messenger users impose on its global data centers.
Building the growing server farm network structure to host all websites and apps is why Facebook is considered as a firm involved in a high capital intensity business. Facebooks capital expenditures have notably increased annually since 2012. Intels Xeon server-grade processors arent cheap.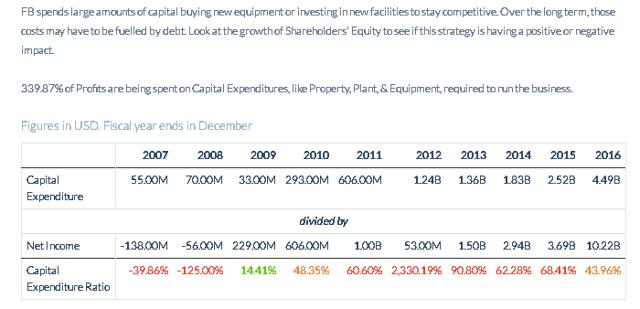 (Source: Vuru.co)
Ads On Messaging Apps Can Significantly Boost Facebook
When Zuckerberg made his statement back in 2014, Messenger only had 200 million monthly active users. The user base is now six times larger. A notably larger user base definitely increased the overhead costs of hosting them. WhatsApp also touts 1.2 billion monthly active users.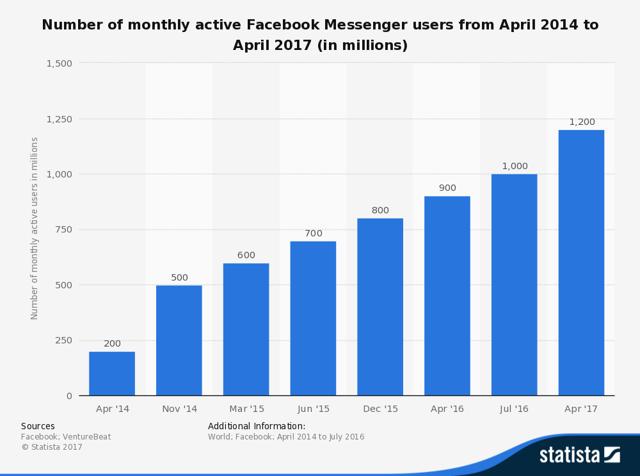 Serving personalized ads to users of Messenger is the easiest way for Facebook to recoup its overhead costs in hosting the said messaging services. Unlike Line Corporation (OTC:LNNFF), Facebook never had a mobile app store, e-commerce marketplace, or a successful commercial money transfer service integrated within its messaging app. Facebooks only expertise so far is in digital advertising.
Im waiting for him to also eventually deliver ads on WhatsApp. Facebook investors want a little payback for the $21 billion that Zuckerberg paid to acquire WhatsApp. Delivering ads on it will finally make WhatsApp a contributor to Facebook's financial health.
Ads on messaging apps could be the next growth catalyst for Facebook. Rampant ad-blocking on desktop computers is eventually going to slow down the growth of Facebooks quarterly ad revenue.
Mobile apps like Messenger and WhatsApp are still quite safe from users of ad-blocking software. As far as I know, Google (GOOG) (GOOGL) and Apple (AAPL) have not yet allowed third-party developers to create ad-blocking software that targets ads served inside Android or iOS apps and games.
The economic benefit of serving ads to 2.4 billion users of WhatsApp and Messenger is easy to guesstimate. Facebooks quarterly revenue of around $8 billion could increase by as much as 30%. As of Q1 2017, Facebook global quarterly ARPU (Average Revenue Per User) was $4.23, up from $3.32 in Q1 2016. This was achieved without global advertising on Messenger.
A complete global roll-out of advertising for Messenger could add another $1.30 ARPU. This is, of course, my own guesstimate. It could even be higher since messaging apps are now one of the most used applications on mobile devices.
Advertisers will go where there are the most glued-on eye-balls. Facebook can ch arge any fee it wants on Messenger advertising and many advertisers and marketers will still accept it.
Advertisements will be delivered right on the home tab of the Messenger mobile app. Thats prime real estate for ad placements for marketers who want to catch the attention of 1.2 billion pairs of eyes.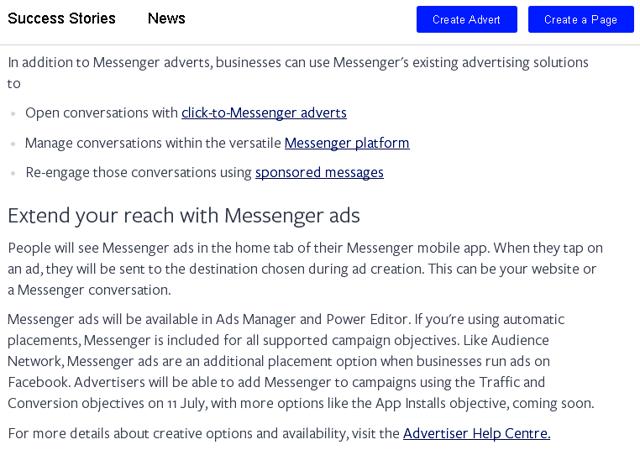 (Source: Facebook)
Advertisers on Facebooks core mobile app will also likely pay to place their advertisements on messaging apps like Messenger and WhatsApp. In America, the average person spends five hours every day on mobile devices, 12% of that time is spent on messaging/social apps. Twelve percent of 5 hours is 36 minutes. Thats enough time to deliver 3 to 5 ads.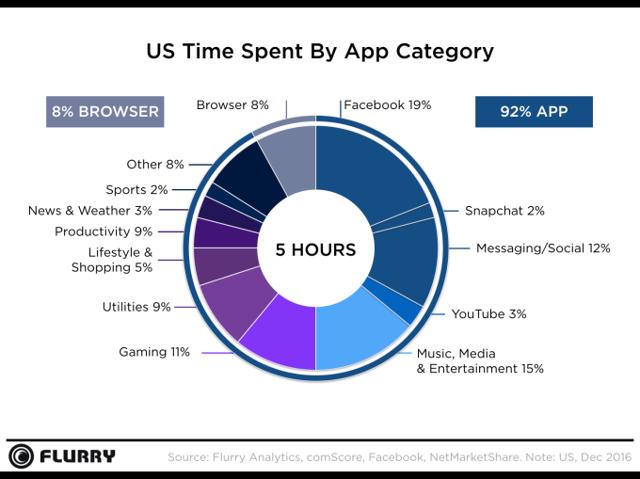 (Source: FLURRY)
Final Words
Zuckerbergs decision to allow an all-in advertising focus for Messenger is a strong reason for us to stay long FB. He is willing to do anything that can keep Facebook shareholders happy. He is still the biggest individual shareholder of Facebook. Zuckerberg benefits the most from the increased revenue/net income from putting ads on messaging apps.
Targeted ads right on the home tab of the Messenger mobile app is now a better option for advertisers who are wary that some people might be blocking their display ads on Facebooks website.
The advertising-driven business of Facebook should not have any sacred cow. Ads should also be served on WhatsApp. I do not care if some WhatsApp users balk at the idea of getting personalized ads. They can always quit and stop being freeloaders.
Further, I believe the global roll-out of Messenger advertising might inspire many hedge fund managers to buy more FB shares. Facebook h as had a positive hedge fund confidence signal since Q4 2016. The global advertising platform for Messenger is definitely another confidence booster.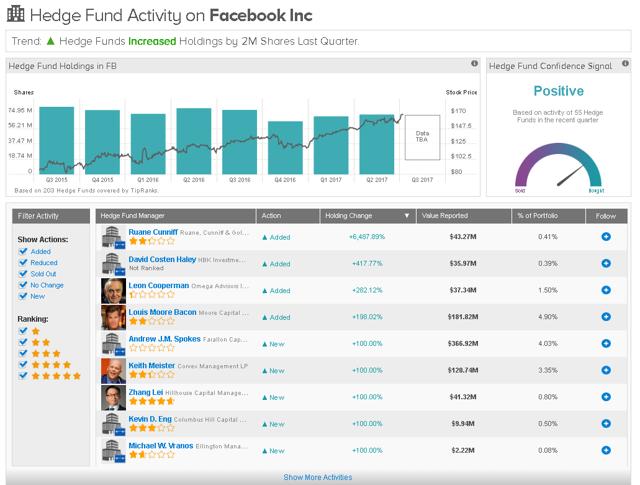 (Source: TipRanks)
Disclosure: I am/we are long FB, GOOG, AAPL.
I wrote this article myself, and it expresses my own opinions. I am not receiving compensation for it (other than from Seeking Alpha). I have no business relationship with any company whose stock is mentioned in this article.
About this article:ExpandAuthor payment: $35 + $0.01/page view. Authors of PRO articles receive a minimum guaranteed payment of $150-500.Tagged: Investing Ideas, Long Ideas, Technology, Internet Information ProvidersWant to share your opinion on this article? Add a comment.Disagree with this article? Submit your own.To report a factual error in this article, click here