Shares of Achaogen (AKAO) rose by up to 90% just a few months after my December article suggesting readers buy the secondary offering. The stock has completed the round trip back down and then some, currently in the red by 20% from where we first started.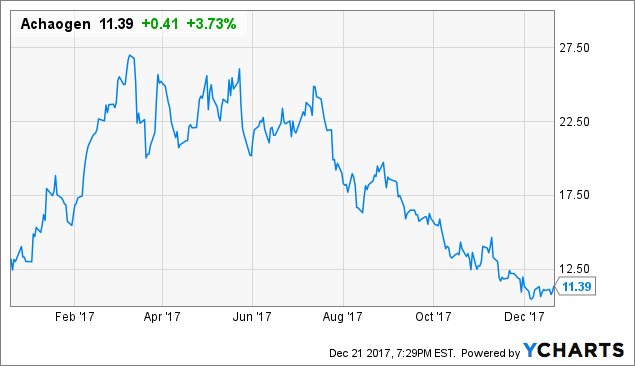 AKAO
data by
YCharts
Originally, I was attracted to the stock as a way to capitalize on growing alarm concerning the issue of antimicrobial resistance and rising prevalence of multi-drug resistant gram-negative infections (MDR) (more specifically carbapenem-resistant Enterobacteriacae or CRE). Lead candidate plazomicin showed itself to possess superior potency against CRE and sufficiently differentiated compared to competitors' products in clinical testing.
In the EPIC study in cUTI the drug candidate achieved primary FDA endpoints and also showed superiority on EMA endpoints. In the phase 3 CARE study lower mortality rates were observed for patients taking plazomicin as opposed to those with colistin therapy. The safety profile for the drug candidate was considerably better, with TEAEs related to renal function occurring in 16.7% of patients versus 38.1% of patients in the colistin therapy arm.
Also, I pointed to peak sales potential of over $500 million ($250 million if excessively conservative) and prior precedent of similar companies in the antibiotic space being taken out for a significant premium (ie. Optimer for total deal value of up to $801 million in 2013 and Durata Therapeutics for $675 million not including CVRs).
Aside from the ROTY win with Motif Bio (MTFB) and a double in Tetraphase Pharmaceuticals (TTPH), I stayed away from antibiotic plays for the most part in 2017. It seemed that each one I recommended (Nabriva Therapeutics comes to mind) subsequently reversed course and headed lower. It didn't take much to realize this weakness was manifesting itself throughout the sector- after Motif Bio notched a win in in the REVIVE-2 trial, we sold the stock quickly to protect profits even as I remained positive on the firm's prospects. Sometimes it's best to sell a stock quickly when it reverses course on you with high volume and ask questions later.
Shifting the focus back to Achaogen, in May the company announced receipt of the coveted Breakthrough Therapy Designation for plazomicin. In October they submitted their NDA for plazomicin for the treatment of cUTI, including pyelonephritis and bloodstream infections due to certain Enterobacteriaceae in patients who have limited or no alternative treatment options. Management guided for their European filing to be submitted next year.
Despite management continuing to execute, the stock fell as a result of analysts reducing their sales estimates and increasingly focusing on potential competition in the space. For example, just thinking of intravenous antibiotics for complicated urinary tract infections you are looking at Tetraphase Pharmaceuticals' eravacycline, Melinta Therapeutics' Vabomere, Shionogi's cefiderocol and Paratek Pharmaceuticals'omadacycline to name a few. The sale of The Medicines Company's antibiotic portfolio to Melinta Therapeutics on the cheap ($270 million upfront plus tiered royalties and assumption of other milestones) also resulted in several related tickers sliding as Wall Street inferred reduced peak sales estimated and continued weakness in the space. Writer Jacob Plieth's August article is an insightful read and shows just how much of a sinkhole companies such as Melinta and Cempra have been for investor funds. On the bright side, plazomicin appears to be significantly superior to Melinta's Vabomere in CRE patients.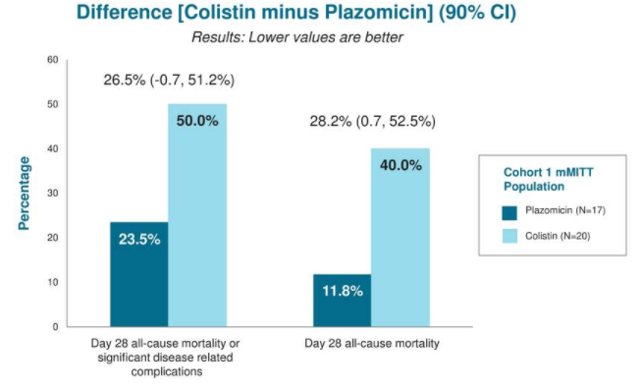 Figure 2: CARE primary efficacy results (source: Q3 slides)
Recently, the stock appeared back on my radar after Robert Duggan (successful entrepreneur of Pharmacyclics fame) added another 95,012 shares to his stake for a total position of over 5.6 million shares! Another buy signal was the addition of Liz Bhatt as Chief Business Officer, considering her valuable experience as Vice President of Corporate Development at Gilead Sciences and prior position at Eli Lilly.
For the third quarter the company reported cash and equivalents of $199.4 million, while net loss came in at $29.9 million. Research and development costs rose to $25.3 million. General and administrative expenses more than doubled to $11.8 million.


Figure 3: Opportunity in CRE infections for plazomicin in United States and EU5 (source: Q3 slides)
As for nuggets from their conference call transcript, I find it encouraging that the company has established its sales footprint as part of its targeted strategy of concentrating on less than 1,000 hospitals and plans to cover the CRE market with just 65 hospital account managers. For longer term investors, keep in mind this sales force would come in handy in a few years should second candidate C-Scape make it across the approval finish line as well.
Achaogen is a Buy
Readers who have done their due diligence and are interested in the story should initiate a pilot position in the stock in the near term. As it is still near 52 week lows and continues to show weakness, I would wait for technical and fundamental confirmation before attaining a full position. This revaluation idea has a good shot at rebounding next year while regulatory catalysts should keep things exciting.
I will be adding the stock to the ROTY Contenders List to keep a closer eye on it.
For readers interested in stocks with near to medium term upside, I encourage you to take a look at our ROTY (Runner of the Year) ten stock model account and the ROTY Contenders List. Here is a link to the most recent edition.
The main risk to thesis at this point is a regulatory downthumb, which would be devastating to the bull thesis as plazomicin is the main value driver here. Competition in certain indications, the possibility of a smaller market opportunity than originally thought and cash burn necessary for a coordinated launch are also valid concerns. While they have a solid cash position, I would not be surprised to see additional dilution late in 2018.
Author's note: My goal is to bring to readers' attention undervalued stocks with catalysts that could propel shares higher, as well as provide a fresh perspective on stocks you may already be aware of. I also touch on planning trades and risk management, as those are two areas I feel are often neglected. If you found value in the above article, consider clicking the orange "Follow" button and getting email alerts to receive my latest content. My sincere appreciation for readers who add value and join the discussion in the comments section, as well as those who share my work with others who could benefit from it.
Disclaimer: Commentary presented is not individualized investment advice. Opinions offered here are not personalized recommendations. Readers are expected to do their own due diligence or consult an investment professional if needed prior to making trades. Strategies discussed should not be mistaken for recommendations, and past performance may not be indicative of future results. Although I do my best to present factual research, I do not in any way guarantee the accuracy of the information I post. Investing in common stock can result in partial or total loss of capital. In other words, readers are expected to (and encouraged) form their own trading plan, do their own research and take responsibility for their own actions. If they are not able or willing to do so, better to buy index funds or find a thoroughly vetted fee-only financial advisor to handle your account. I am in a collaborative relationship with The Biotech Forum/Bret Jensen.
Disclosure: I/we have no positions in any stocks mentioned, and no plans to initiate any positions within the next 72 hours.
I wrote this article myself, and it expresses my own opinions. I am not receiving compensation for it (other than from Seeking Alpha). I have no business relationship with any company whose stock is mentioned in this article.
About this article:ExpandAuthor payment: $35 + $0.01/page view. Authors of PRO articles receive a minimum guaranteed payment of $150-500.Tagged: Investing Ideas, Long Ideas, Healthcare, BiotechnologyWant to share your opinion on this article? Add a comment.Disagree with this article? Submit your own.To report a factual error in this article, click here