Barbara Bush, the former First Lady and wife of former President George Bush, passed away on April 17 at the age of 92.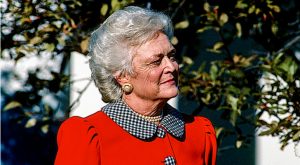 Source: Shutterstock
Barbara Bush's life was a unique one that gave her many experiences only a few ever have. This includes only being one of two First Ladies to have both her husband and son win the Presidency. The other was former First Lady Abigail Adams.
Another worthy note about Barbara Bush has to do with her marriage to former President George Bush. The couple celebrated their 73rd wedding anniversary back in January. This makes them the longest married couple to ever hold the titles of President and First Lady.
Barbara Bush's passing was announced by the office of George Bush. It said that she no longer sought additional medical care and instead chose comfort care. She is survived by her five children, George, Jeb, Neil, Marvin and Dorothy, as well as her husband, reports The New York Times.
InvestorPlace is remembering the former First Lady with a collection of her quotes. You can check them out in the following gallery.
Barbara Bush Quotes to Remember Her By

Barbara Bush Quotes to Remember Her By

Barbara Bush Quotes to Remember Her By