For the first time since I started investing, I have added a stock to my portfolio which is at its all-time high: Broadcom (NASDAQ:AVGO).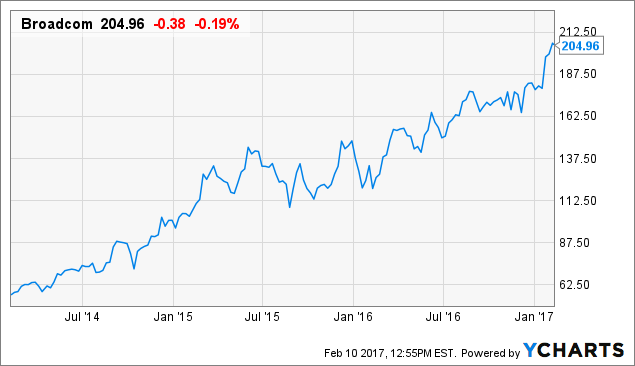 AVGO data by YCharts
Broadcom has got some safety issues, but I think they are controllable at the moment. The main reason I have added it to my portfolio is because it is a great combination of a value stock and a growth stock. It has a solid 2% dividend with a great dividend growth rate in the last few years and a huge potential to keep the dividend hikes in the double digits for years to come. Besides that, it has the potential to double in five years' time if you look at EPS and even in less than three years' time if you look at the free cash flow. In short: a great total return stock!
Safety
One of the first things I look at when I buy stocks is safety. Safety can be seen in the credit rating and in debt management. I buy for the long term and companies with junk status are too unstable for my taste to invest in for the long term.
Broadcom is in the very competitive semiconductor sector, but it is a diversified company. It has products in these five categories:

(Source: broadcom.com)
Its biggest client is Apple (NASDAQ:AAPL), with 20% of the revenues. This is a risk if Apple would completely stop the collaboration, but I don't see that happening any time soon. But still, it is a risk to consider.
Broadcom has a status of BBB- (S&P) and Ba2 (Moody's). This is investment grade, but just barely. That was one of the reasons I took a deep dive into the stock before I bought it.
This is the evolution of Broadcom's debt: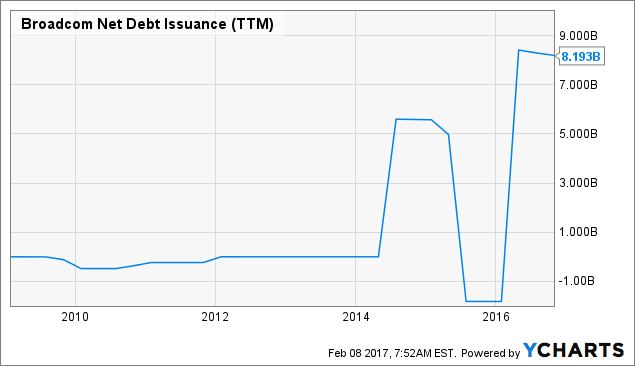 AVGO Net Debt Issuance (TTM) data by YCharts
As you can see, Broadcom didn't have any debt (even more than $1B of cash) before the beginning of 2016. That was because of the acquisition of Broadcom by Avago, which then changed its name to Broadcom. The company paid $17B in cash and $20B in stocks for this acquisition, which explains the high debt. And this higher debt caused the rating agencies to give the new Broadcom the quite low credit ratings Ba2 (Moody's) and BBB- (S&P).
This low credit ratings didn't stop Broadcom to acquire Brocade (NASDAQ:BRCD) for (with the debt of Brocade included) $5.9B in an all-cash transaction. The deal is expected to close in October 2017 and again Broadcom's debt will go up. The credit rating of Broadcom is the only real point of worry that I have about Broadcom. This is what I will keep an eye on in the coming quarters and years. I don't want stocks with junk grade credit ratings in my portfolio.
This situati on for Broadcom could be temporary, though. I think and hope Broadcom's management will lower the leverage in the following years. The Brocade deal was just too good not to close: it was a great diversification and I think Brocade was undervalued. Broadcom has already announced that it will divest the IP networking division of Brocade. I think the selling price of that division might be around $2B to $2.5B, which would already give Broadcom a kick-start to reduce its debt.
Why I think that the big debt situation may be temporary is that the FCF (free cash flow) of Broadcom is expected to grow by 88% in 2017 as a result of the acquisition, synergies and new growth. After 2017, FCF is expected to grow by 20% and more. If that high growth in FCF is used to pay down debt, there is nothing to worry about. And historically the company has already been in this situation:
AVGO data by YCharts
You see that Broadcom is already working to reduce its debt. Normally I want the debt equity ratio at maximum of 40%, but I think this criteria will be met by Broadcom pretty soon. Therefore I am prepared to be flexible.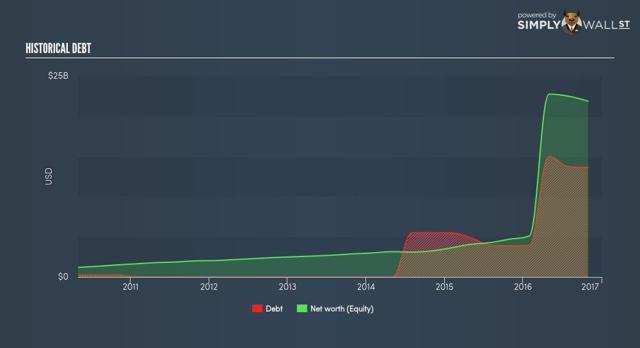 Source: simplywall.st
So, you can see that Broadcom doesn't have a long history of high debt. It dates from the last years. This debt is still manageable. But again: something to watch closely.
Broadcom is a great value stock
I want either a good dividend or high growth or a mix of both in my portfolio. Broadcom may be one of those few stocks that combines both growth and value. Let's start with value.
Broadcom's dividend rate is $4.08, which means a yield of 1.98%. For dividend investors, this already looks quite okay, but not really exciting. But yield doesn't say everything; the dividend growth rate is also very important if you are considering to keep a stock in your portfolio for quite some time. And there Broadcom's performance is outstanding: the 3-year dividend growth is 34.3% and even 40.7% over the last 5 years.
Now that is what I like for a dividend: high growth. The fact that Broadcom's yield is still only about 2% just m eans that the valuation went hand in hand with the huge dividend raises. You can see that on this graph: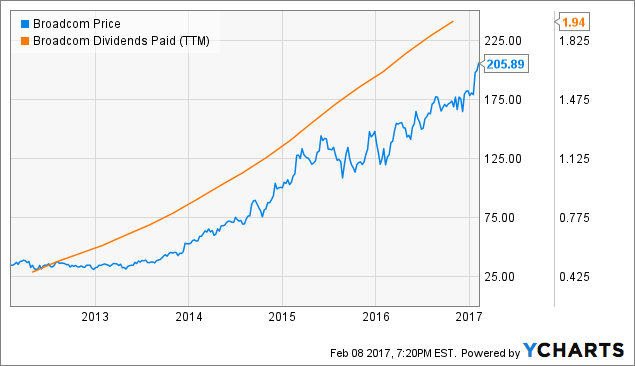 The Chowder Rule says that if a stock has a dividend yield of less than 3%, its five-year dividend growth rate plus its dividend yield must be 15 or higher. Broadcom has a 40.7% dividend growth for the last five years. If you add up the 1.98% dividend and the expected big dividend growth in the years to come, then you see that Broadcom can easily pass the Chowder rule.
With the great site yieldchart.com, you can calculate how high the dividend is compared to the average of the last five years. Here is the graph: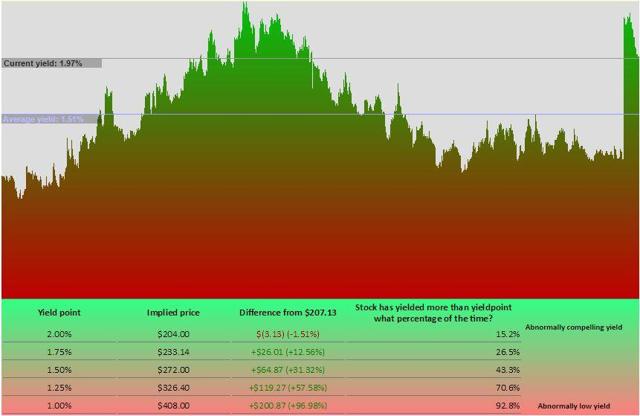 Broadcom's dividend sits at 1.97% at this moment. As you can see on the chart of the last five years, historically this is quite high, despite the huge run the stock has had in the last year: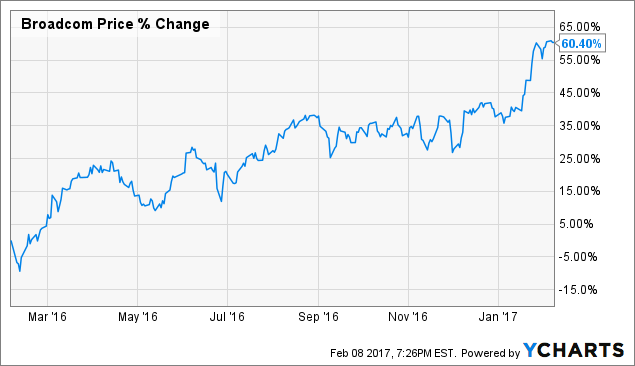 If you have a stock that goes up that much and still has a 2% dividend yield, that must be compensated by huge dividend raises. And that is certainly the case for Broadcom: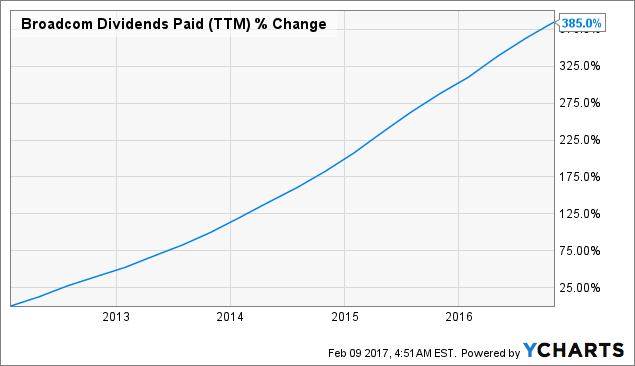 The payout ratio of the dividend is still low. If you look at the FCF (free cash flow) of AVGO and its expected growth, you can see that the $4.08 dividend is very well covered:
The payout ratio of the dividend is still low. If you look at the FCF (free cash flow) of AVGO and its expected growth, you can see that the $4.08 dividend is very well covered: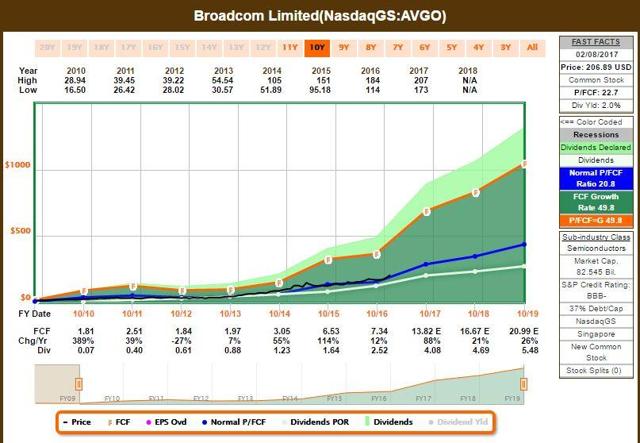 The FASTgraph indicates that the FCF will be $13.82 per share for FY 2017, which means that the dividend is only about 30% of the FCF. With the expected further growth of the FCF (21 and 26% for 2018 and 2019), there is a lot of room to keep growing the dividend with double digits for a long time.
A 2% dividend yield with huge opportunities to grow the dividend by double digits for years, that is the kind of value stock that I want in my portfolio. But Broadcom is even better than just that.
Broadcom is a great growth stock too
The expected growth in FCF already hinted to it, but Broadcom is still a growth stock too. Being a growth stock means you grow considerably faster than an average stock. But it is always difficult to evaluate a growth stock. What I like to do to solve this problem is using the criteria of Better Investing, the magazine of the NAIC (National Association of Investors Corporation), which is the umbrella organization of more th an 13,000 investment clubs. The NAIC has given its members guidelines to evaluate growth companies. Let's check some of the most interesting questions for Broadcom.
1. Is there a strong historical earnings growth?
The NAIC wants the annual revenues to go up by at least 5% per annum for at least five years.
This is the evolution of Broadcom's revenue growth: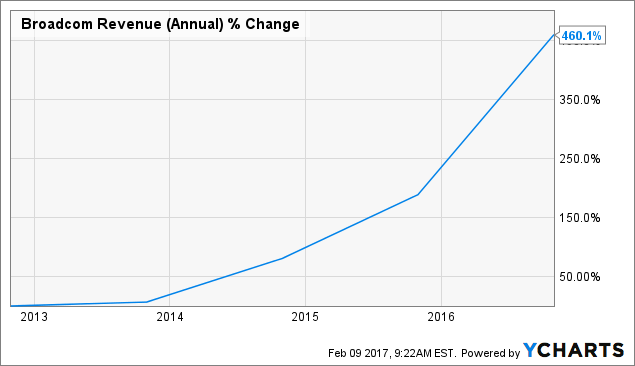 AVGO Revenue (Annual) data by YCharts
As you can see, the revenue has exploded in the past five years. There is not a shred of doubt: the revenue growth is above 5%. It even makes 5% look ridiculous. The revenue has almost quintupled in the last five years.
2. Is there a strong forward earnings growth?
NAIC would like to see a projected five-year growth rate of 10 to 12%. Finviz.com estimates Broadcom's five-year EPS growth rate at 15%, which is great for a company that is already this big (the company has a market cap of $82.5B).
This graph also shows the expectations are that the revenue is going to keep growing exponentially. The EPS, which has dipped because of the acquisition costs, is going to be bigger than ever as well.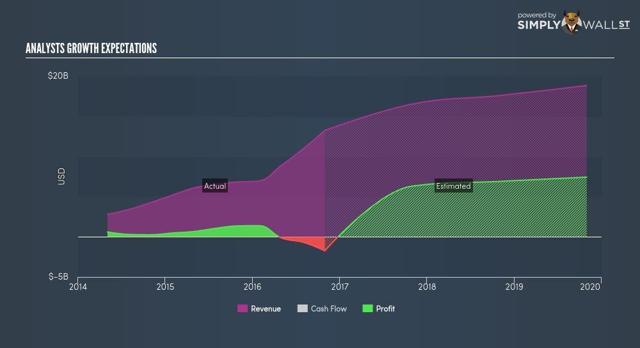 (Source: SimplyWall St.)
3. Is the pre-tax growth high enough?
It is good if revenue grows, but if you burn money by excessive costs, your company has no future. Therefore, you should also look at the pre-tax profit.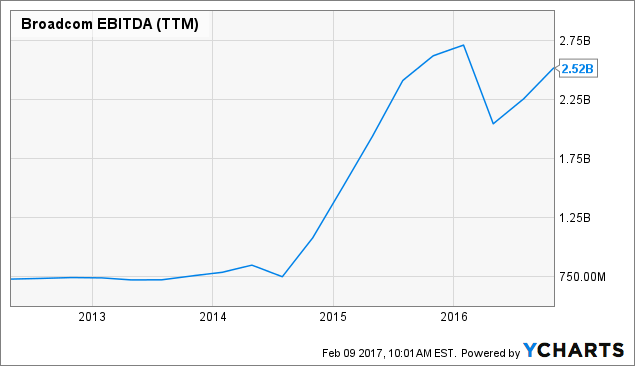 AVGO EBITDA (TTM) data by YCharts
For a company with such a big market cap these results look good. In the last two years alone, EBITDA have tripled from $750M to $2.5B. So also in EBITDA, Broadcom's growth is impressive.
4. Can the stock price double in five years' time?
This sounds ambitious, but it means a growth of 15% per year. Of course, the stock market is unpredictable. But the question is not if the stock will double but if it has the ability to double. The best ratios to use here are EPS and FCF. EPS because that is what a company earns, FCF is all the money a company can deploy for investments for shareholders' return: dividend and buybacks. If EPS and FCF go up and the valuation stays the same, then you get what you want.
Think of the famous quote of Benjamin Graham: "In the short term the stock market is a voting machine, in the long term a weighing machine." He meant that stock prices tend to follow earnings in the long run.
The estimated EPS growth for Broadcom for the next five years is 15%, according to finviz.com. This would be more than enough to fulfill this requirement, but we will have a look at the earnings surprise history of every quarter since 2011. Because if 15% is expected, but Broadcom under delivers, then the expected 15% will not be met.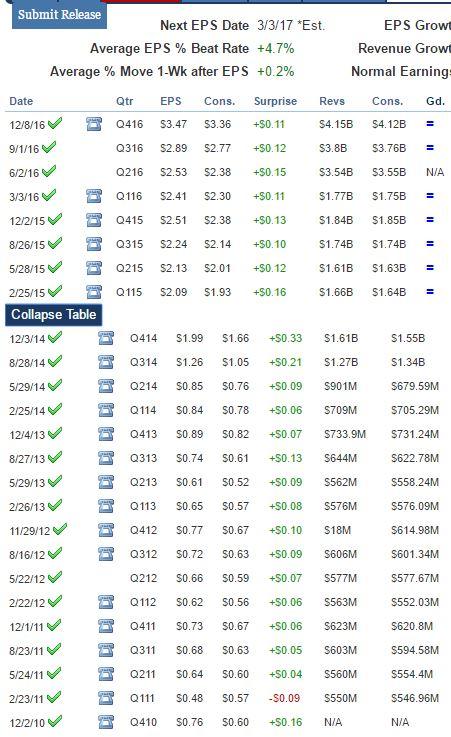 Source: Streetinsider.com
As you can see, Broadcom is a solid performer, which mostly tops the expectations (in 24 of the last 25 quarters). I think Broadcom really has the ability to easily double in five years' time if you look at the EPS.
If you look at FCF, Broadcom could do even better. This FASTgraph shows the historical correlation between the stock price and the FCF: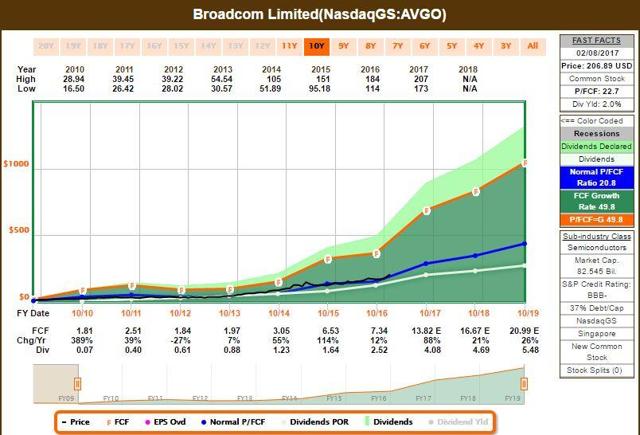 You can see that the price follows the FCF closely. In 2017 the FCF is expected to grow by 88% and the next years 21% and 26%. This means that if the price of the stock would follow the FCF again, which I think is not impossible if you consider the great growth perspectives of the company, Broadcom's price could even double over the next 2.5 to 3 years. But it doesn't have to, you know. In the end I intend to keep this stock for the really long run, which means that 3 years means nothing.
The most important conclusion that the stock is, besides a great value stock, also a great growth stock.
Valuation
What I have found until now has made me enthusiastic, but I always want to look at the valuation of a stock. And even though Broadcom is at all-time highs, the valuation actually looks good, meaning that the stock is fairly valued or even undervalued.
The stock has a forward P/E of 13.7 and historically it has a P/E of just 14.7:
(Source: fastgraphs.com)
As you can see on the graph, the shares seem to be just a tad overvalued compared to the historical average, but then again for this quality, it is almost nothing.
If we look at the fair price based on future cash flow, simplywall.st shows that the stock is undervalued:

Conclusion
Broadcom is a great stock that combines both growth and value, which is seldom seen in a long bull market. And if that stock is fairly priced or even undervalued, it is a gem. The high debt of Broadcom, originating from the acquisitions, is something to keep an eye on, but for the rest I think this is a high quality stock. I have bought it and I plan to hold it for the long term.
If you enjoyed this article, please hit the "Follow" button for more articles with a long-term investment horizon.
In the meantime: keep growing!
Disclosure: I am/we are long AVGO.
I wrote this article myself, and it expresses my own opinions. I am not receiving compensation for it (other than from Seeking Alpha). I have no business relationship with any company whose stock is mentioned in this article.
About this article:ExpandAuthor payment: $35 + $0.01/page view. Authors of PRO articles receive a minimum guaranteed payment of $150-500. Become a contributor »Tagged: Investing Ideas, Long Ideas, Technology, Semiconductor – Broad Line, GARPProblem with this article? Please tell us. Disagree with this article? Submit your own.