Futures are indicating a break in the rally as investors take stock of how quickly we've seen the rally lift stocks. From a technical perspective, the market remains in an overall trading range as we've not seen a technical catalyst that can sustain a trend higher in the S&P 500 Index. In all likelihood, that catalyst won't come until the next earnings season which won't kick-off until early October.
Today's three big stock charts look at the technical picture for Apple Inc. (NASDAQ:AAPL), Amazon.com, Inc. (NASDAQ:AMZN) and Advanced Micro Devices, Inc. (NASDAQ:AMD) as each of these three "AAA" tech stocks are flashing technical signs that their rallies may be over for now.
Apple Inc. (AAPL)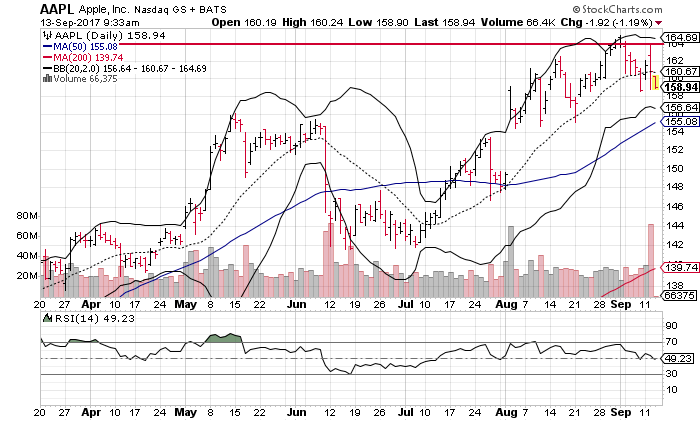 You're not supposed to short or sell Apple after they make a product announcement are you? Well, the short answer is "yes" as AAPL stock is always prone to a "sell the news" reaction to their product rollouts and earnings announcements. The stock saw a "buy the rumor" rally, so how far can Apple shares fall now?
On average, our quick test of the "sell the news" rallies over the last five years show that AAPL stock often pulls back 3-7% in the wake of earnings and product announcements. This is the effect of being "overloved" and owned by every fund manager meaning that these events tend to be discounted into the stock price ahead of the event. Yesterday's price activity saw a wild swing in value as Apple stock ran right into overhead resistance at $164. This price is the same where the stock ran into an oversold signal in the end of August. Expect this chart resistance to be stronger now. Share volume was huge yesterday as it exceeded the last two earnings events. Looking at the intraday volume, we saw the majority of it trade on selling, suggesting that the traders out there are locking in profits for now. Looking at where AAPL stock may head, expect a lower high after resistance at $164 drives the stock to support at $155, which would likely correlate with an oversold situation. Amazon.com, Inc. (AMZN)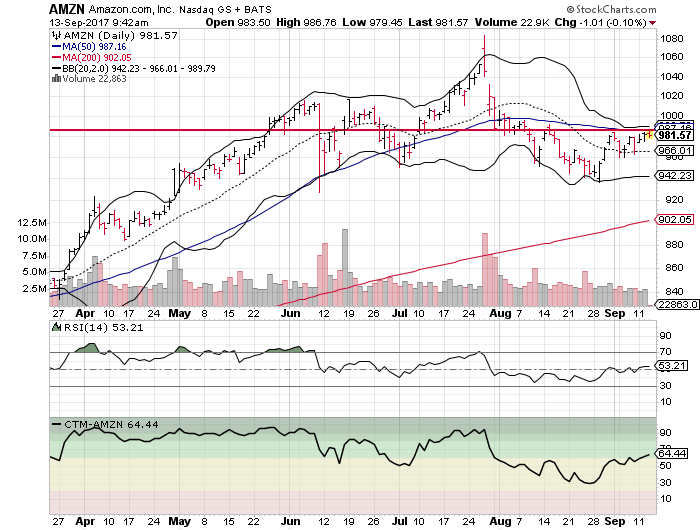 "Stuck in a rut" is the best way to describe Amazon shares, but the charts are indicating that a breakout is in the building stages.
The seeming return of the brick and mortar shopper is putting some pressure on the online shopping giant to get moving again, but we won't see a fundamental catalyst until earnings, so where does AMZN stock go for now?
Amazon shares are trading just under resistance at their 50-day moving average. This trendline has transitioned into a neutral-to-bearish trend as the slope has been negative. This, as AMZN stock is trading below $1,000, has put pressure on prices as investors beginning to question the valuation of AMZN. On a positive note, the trend indicators that we monitor suggest that Amazon is building a little momentum. The momentum has been coming in on declining volume, which means that it may not stay strong enough to break above the 50-day and $1,000 level, which is what is necessary for any upside. Another rejection at the 50-day, $986 is likely to get traders to increase their selling. This will result in a test of longer-term technical support at $900. The support would come in the form of AMZN's 200-day moving average.
Next Page
Advanced Micro Devices, Inc. (AMD)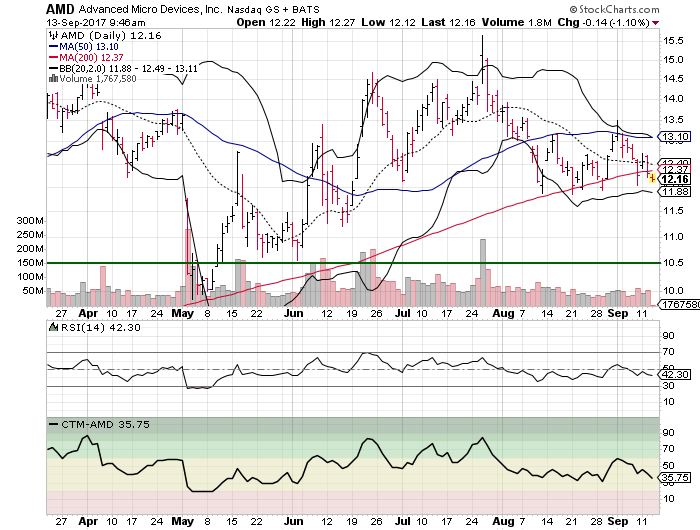 Advanced Micro Devices has been lagging the market and the semiconductor sector as traders have been very picky about the stocks in this group. Names like Nvidia Corporation (NASDAQ:NVDA) have been the focus, leaving names like Intel Corporation (NASDAQ:INTC) and AMD on the sidelines.
For now, the trend is unfriendly for Advanced Micro Devices shares, but how bad will it get?
Stuck in a bearish trend, AMD is now threatening to break into a longer-term bear channel by breaking below its 10-month moving average. This will lure sellers into the market and press shares lower. The momentum indicators for Advanced Micro Devices are shifting back into short-term bearish readings as traders are selling into the recent strength. This will put AMD stock in a position where it is likely to break the critical $12-price-level. Our current price target for AMD is $10.50 as the price is strong chart support from past bottoms. Any rally before this support is likely to fade quickly as this stock is still crowded with sellers.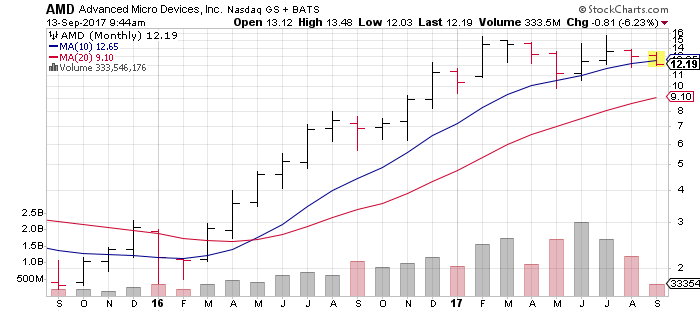 As of this writing, Johnson Research Group did not hold a position in any of the aforementioned securities.